Improve your cybersecurity posture with interactive reporting and analytics by combining Tripwire data across your entire organization.
Maximize the Power of Your Tripwire Data
Get more ROI from your Tripwire® Enterprise and Tripwire IP360™ data using Tripwire Connect, the visualization, reporting and analytics platform purpose-built for Tripwire users. Visualize your security and risk trends across your enterprise—whether it's the entire organization, or within business units or single departments.
Tripwire Connect empowers CISOs, CIOs and IT security directors with actionable reporting that allows them to implement processes and remediations to reduce the overall risk profile of their organization, assuring system integrity and delivering continuous compliance.
Image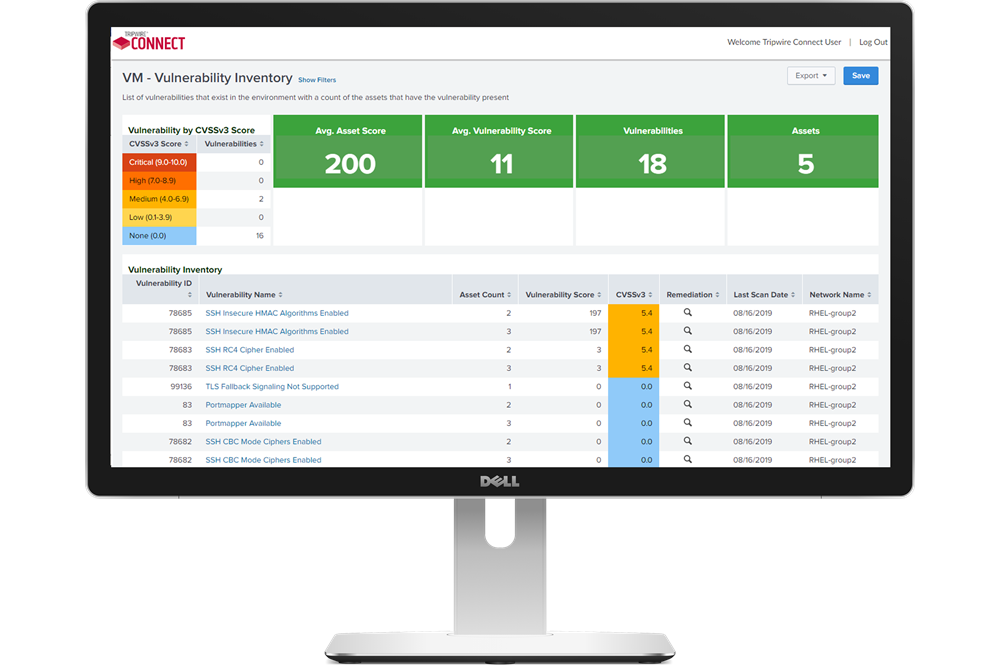 Image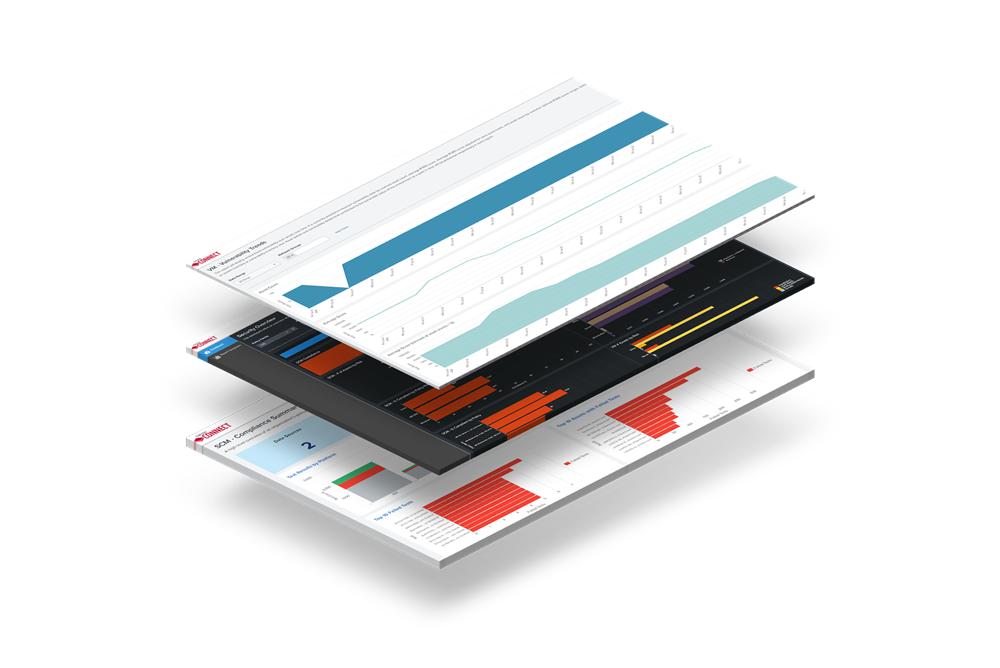 Get a Unified View of Your Enterprise
Tripwire Connect provides a unified view into your security configuration (SCM), file integrity (FIM) and vulnerability management (VM) data at a glance so it can be analyzed to provide an enterprise-wide, holistic view of your cybersecurity posture.
Use vulnerability risk scores to adjust your integrity monitoring scans and prioritize fixes. Evaluate the potential impact of unauthorized change or out-of-compliance states by viewing the vulnerability exposure of those assets. Whether you're a CISO, CIO or a security analyst, Tripwire Connect is designed for you to intelligently prioritize, take actions and make smarter cybersecurity decisions.
Scale as You Grow, Deploy as You Need
Regardless of the size and complexity of your organization, Tripwire Connect scales with you. Tripwire Connect can aggregate data from over 100,000 nodes. Data can be consolidated from multiple Tripwire Enterprise consoles and Tripwire IP360 VnEs.
Tripwire Connect gives you the choice of either an on-premises or as a SaaS deployment. Both the on-premises and SaaS deployments of Tripwire Connect provide the same basic functionality—see the Connect data sheet for specific differences.
Image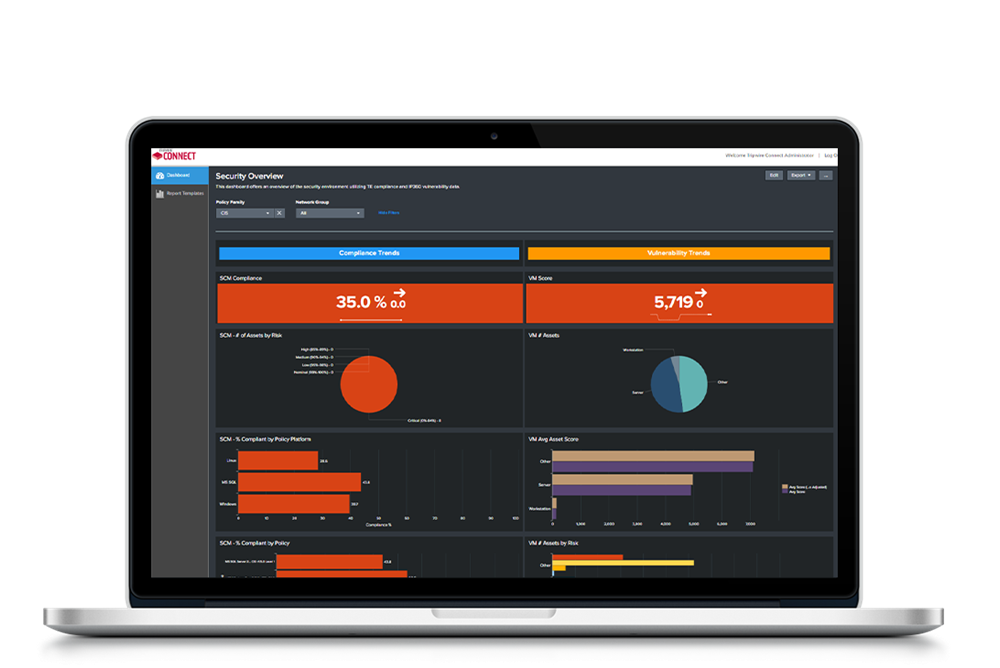 Image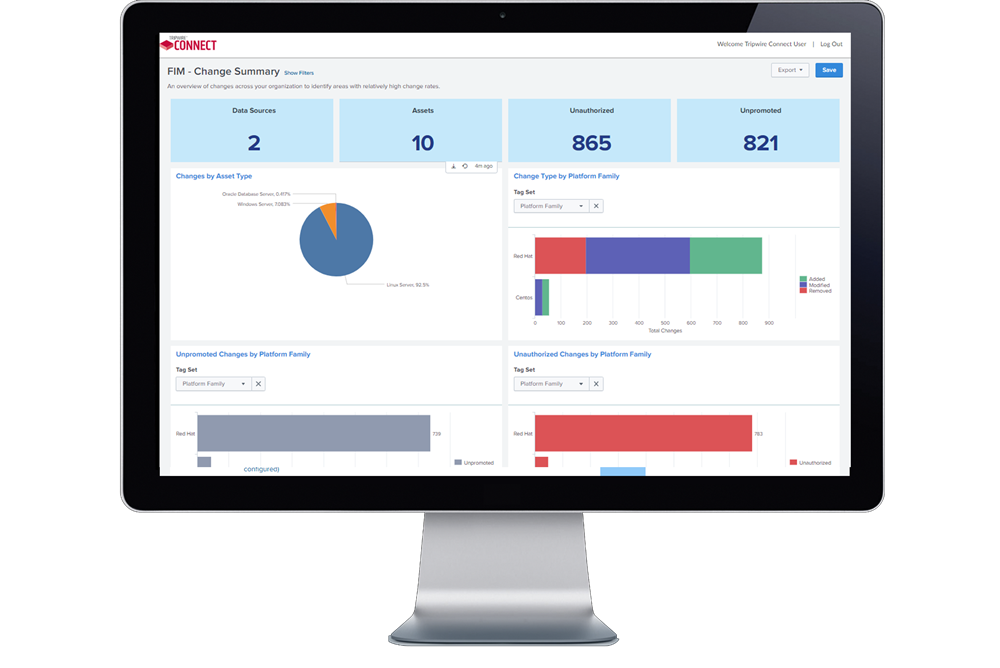 Audience-Specific Dashboards and Customizable Reporting
Tripwire Connect provides tailored & customizable reports which allow you to tailor them to meet your specific vulnerability, configuration and compliance needs. Report audiences include executive management, operations, security analysts and compliance managers so each audience gets the information they need at the level of detail they require. Connect provides the data and gives you the ability to correlate and convert that data into actionable information.
Tripwire Connect dashboards allow you to select criteria and search through data that would otherwise be lost in static flat reporting. Enterprises can use this data to measure and track improvements over time. Innovative companies rely on Tripwire Connect to ensure they do not drift from their desired cybersecurity posture.
Additional Cybersecurity Tools from Tripwire
Not Sure Which Product is Right for You?
Text
Contact one of our security and compliance experts to understand your needs and match them with the best Tripwire solution.