As the industry's leading file integrity monitoring (FIM) and security configuration management (SCM) solution, Tripwire Enterprise helps you achieve both compliance and advanced security.
Image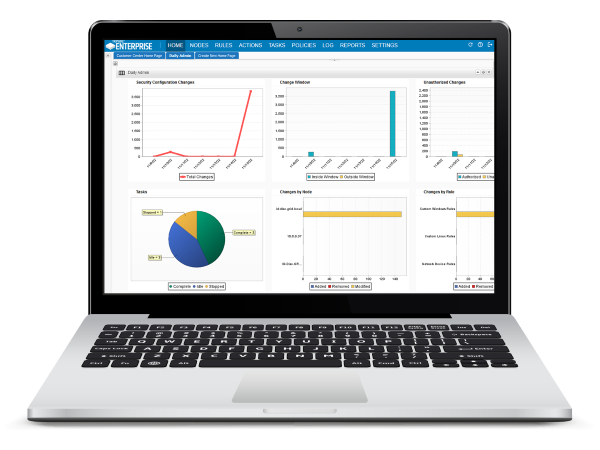 Tripwire Enterprise Features
How Does Tripwire Enterprise work?
Help Control Security Breaches With Integrity Monitoring and Security Configuration Management

Backed by decades of experience, Tripwire Enterprise is capable of advanced use cases unmatched by other solutions. Tripwire helps reduce your attack surface and risk exposure with proper system hardening and continuous configuration monitoring. See how Tripwire enables you to maintain a secure baseline configuration, monitor assets for deviations, while automating and guiding security teams for rapid repair of non-compliant systems and misconfigurations.
What Makes Tripwire Enterprise Different?
Thousands of organizations trust Tripwire Enterprise to serve as the core of their cybersecurity programs. Here's why.
Every breach begins with a single change. Tripwire Enterprise gives you total visibility into each and every unplanned change on your network. High value, low volume change alerts reduce digital noise, and integrations provide granular endpoint intelligence for threat detection and policy compliance. Quickly gather actionable information to prioritize threats and remediate vulnerabilities.
Passing audits doesn't have to be arduous. Tripwire Enterprise automates compliance evidence for you, saving you time and budget on preparation with audit-ready reporting. It supports the industry's broadest library of over 4,000 policy and platform combinations for regulations like PCI, SOX, FISMA, HIPAA, ISO and NERC.
When you're under pressure to protect sensitive data in a rapidly-evolving threat landscape, Tripwire Enterprise is there to automate foundational security controls and guide you through risk remediation. Investigation and root cause features and comparisons quickly tell you what's most important: what changed, how, when and by whom. See why Tripwire has been a trusted leader cybersecurity for over 25 years.
Get a Closer Look at Tripwire Enterprise
Take a self-lead tour of Tripwire Enterprise to learn how you can assess, identify issues, and remediate them with real-time feedback to show your security posture improving.
Security Configuration Management and File Integrity Monitoring Customer Success Stories
Learn More About Tripwire Enterprise
The product itself is extremely robust. There is a industry joke which [is] 'Tripwire can do anything' and technically via its many API's and TE Commander interface you truly can configured Tripwire to detect and alert and/or run compliance on anything…Tripwire's customer service and interaction along with transparency is excellent!
Ready to Learn More?
Thousands of organizations trust Tripwire Enterprise to serve as the core of their cybersecurity programs. Join them and gain complete control through sophisticated security monitoring and change detection.
REQUEST A DEMO