Accurately detect and protect against advanced and evasive threats by combining Tripwire Enterprise security configuration management with FireEye threat intelligence and malware analysis.
Discover Risks

Use Tripwire to detect suspicious changes and flag unauthorized files.
Evaluate Threats

Use FireEye to analyze suspicious files to determine if they are malicious.
Correct Problems

Apply Tripwire workflows and remediation guidance to fix compromised systems.
Catch Zero-Day Attacks

Use FireEye to confirm malware with full-system sandbox emulation.
Leverage Tripwire and FireEye for Optimal Situational Awareness
Tripwire Enterprise
integrated with FireEye greatly enhances your ability to detect and defend against advanced persistent threats and zero-day attacks. Use Tripwire to monitor for suspicious activity, and then use FireEye's Threat Analytics Platform (TAP) to differentiate benign changes from malicious threats. Zero-day malware can be tested using FireEye's full-system emulation sandbox technology.
Image

Image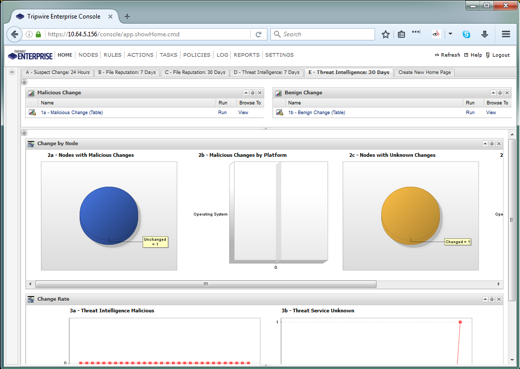 Reduce Security Vulnerabilities in SCADA and ICS environments
The combination of Tripwire solutions, FireEye iSight technology and Mandiant incident response services provides best-in-class solutions for addressing increasingly sophisticated cyberattacks targeting critical infrastructure systems.
Find out more about Tripwire / FireEye Integrated Solutions
Not Sure Which Product Is Right for You?
Contact one of our security and compliance experts to understand your needs and match them with the best Tripwire solution.
Request a Demo