Tripwire's change monitoring and vulnerability assessment capabilities are the perfect complement to ServiceNow's IT Service Management and Security Operations platforms.
Create Workflows

Orchestrate your ITSM operations, policy compliance and system security.
Detect Threats

Identify threats faster with improved access to security data.
Reconcile Changes

Verify that changes were made to the right system, at the right time, by the right people.
Prioritize Fixes

Automate vulnerability response with ServiceNow patch requests based on Tripwire IP360 scans.
Improve Efficiency and Effectiveness of Change Management Processes
Proper change management requires validation that observed system changes have been authorized and approved. Yet, the number of changes recorded during file integrity monitoring can quickly become unmanage-able, leaving you buried in a sea of "red dots".
Tripwire Enterprise'
s integration with ServiceNow solves this problem by reconciling Tripwire observed changes against approved change tickets in ServiceNow. Any changes not reconciled can be created as incident tickets for further investigation. Tripwire Enterprise provides full details of the unauthorized change, which is attached to the ticket.
Image

Image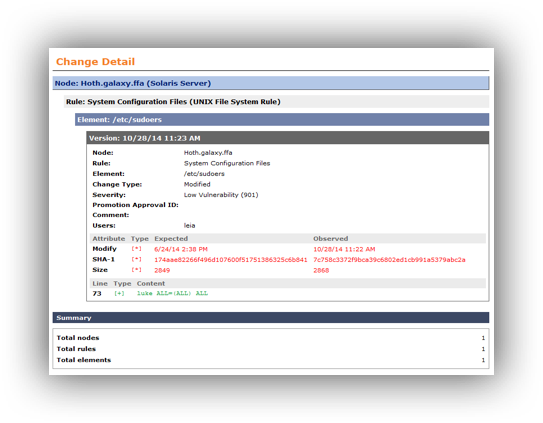 Keep ServiceNow CMDB Accurate and Current with Tripwire Data
The Tripwire integration with ServiceNow enable two-way communication between Tripwire products and the ServiceNow Configuration Management Database. This enables the CMDB to be constantly updated with application and configuration data harvested by Tripwire Enterprise. It also can receive data from Tripwire IP360 on current vulnerabilities and their severities. Tripwire Enterprise can retrieve business attributes from the CMDB to assign asset tags and naming taxonomies. As a result, Tripwire Enterprise's dashboards, reports and alerts consistently represent your environment from your business perspective.
Accelerate Vulnerability Responses using Tripwire IP360 and ServiceNow
Managing the ever-growing list of system vulnerabilities can be a daunting task. Take advantage of the integration between Tripwire IP360 and ServiceNow to import current vulnerability lists with granular risk scores into the ServiceNow CMDB. This vulnerability data can then be correlated with other system information within the CMDB to prioritize the critical vulnerabilities that affect key business services. Automated workflows enable quick response, even creating automated patch requests for the most critical cases.
Image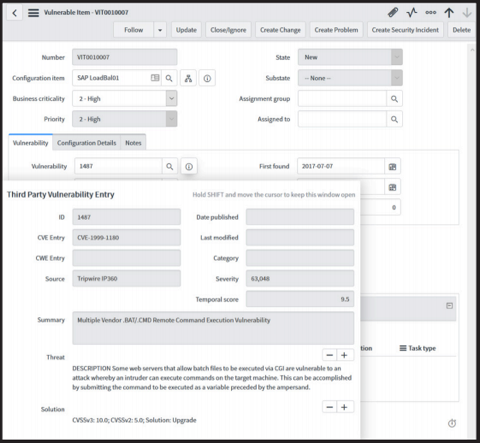 Find out more about Tripwire / ServiceNow Integrated Solutions
Learn More
You're a cybersecurity expert. So are we. Join our network of partners and let's solve some serious enterprise issues together.
Contact Us