Transmission and Distribution asset owners have to juggle disconnected or disparate tools to satisfy NERC CIP and internal cybersecurity requirements. Specifically for substation automation applications, monitoring the various intelligent electronic devices (IEDs) like relays, RTUs, and connected I/O can prove difficult and time consuming.
Tripwire and Eaton offer a unique combination of complementary capabilities that automate data collection, cybersecurity auditing and NERC CIP compliance reporting for complex environments. The integration makes it simple for utility companies to streamline their environments.
How Does Eaton IMS Address NERC CIP?
The Eaton IED Manager Suite (IMS), one of Eaton's grid automation system solutions, provides reliability, security and compliance for utility automation systems. Vendor agnostic, it helps utilities manage configuration settings, passwords and firmware of the IEDs used in substation and distribution automation systems. It also reduces maintenance costs through secure remote access and helps with NERC CIP compliance.
How Does Tripwire Address NERC CIP?
Tripwire provides industry leading NERC CIP compliance through configuration management, task automation, reporting for proof of compliance, and more. Tripwire® Enterprise assesses configurations, detects and analyzes changes, and reports on when, what and who made changes to ensure the integrity systems. The Tripwire NERC CIP Solution Suite is built on patented award winning technology that dramatically reduces the time and effort for power and utility companies to pass audits. Refer to the table below to find Tripwire and Eaton's coverage of NERC CIP requirements.
How Tripwire and Eaton Work Together for You
As a Technology Alliance Partner, Eaton collaborates with Tripwire to efficiently secure substation environments with the Tripwire Enterprise and Eaton IMS integration.
Eaton IMS maintains a structured database of IED configuration settings and detects changes. The database can consist of thousands of valuable attributes, such as password changes, firmware versions, protection settings, Syslog destinations, IP addresses, model and serial numbers, and more. Tripwire Enterprise can automate data collection from that library, eliminating the manual process of entering information for each asset into GRC tools, establishing additional communication paths to IEDs, and potential human data entry errors. With this data, Tripwire Enterprise displays consolidated reports against NERC CIP and custom policies in a single user interface. This partnership allows you to cover an extended range of platforms and native utility protocols (e.g. DNP3, Modbus, IEC 61850, etc.) while receiving actionable data from one central location to maintain compliance. You can also take advantage of other capabilities from both partners, such as Eaton's Password Manager and the Tripwire Enterprise integration with ServiceNow.
Image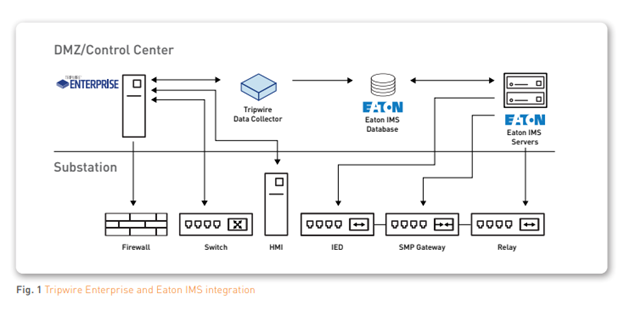 Image