To ensure availability while controlling risk, today's agile enterprises need to adapt quickly to business digitalization and new IT models. IT organizations are feeling pressure from the business to deploy applications faster to help stay ahead of the competition.
Traditional approaches to systems management—manual processes, golden images, and custom scripts—don't cut it anymore as the scale and complexity of today's IT environment is too overwhelming. You need to deploy applications faster while still ensuring your systems are reliable. Adopting DevOps practices will help you achieve this greater speed and reliability, while setting yourself up for future innovation and growth. Automation is the foundation for many DevOps practices, helping your team drive faster, more efficient deployments.
How the Solutions Work Together
Puppet Enterprise enables both automation and collaboration, so you can deliver better technology faster to both internal and external customers. This is achieved with automated testing and continuous delivery, ensuring that the changes you deploy will work in production. Tripwire® Enterprise is a security configuration management suite with policy, integrity, and remediation management capabilities to help customers attain greater confidence in their DevOps environment.
Image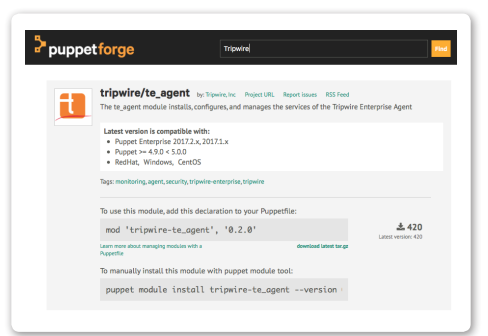 About Tripwire
Tripwire discovers every asset on an organization's network and delivers high fidelity visibility and deep intelligence about those endpoints. When combined with business context, this valuable information enables immediate detection of breach activity and identifies other changes that can impact security risk.
Tripwire solutions also deliver actionable reports and alerts and enable the integration of valuable endpoint intelligence into operational systems, such as change management databases, ticketing systems, patch management and security solutions including SIEMs, malware detection, and risk and analytics. These integrations are part of our Technology Alliance Program and they ensure our customers have robust, accurate information to make their organizations more cybersecure.