Cybersecurity, compliance, and operations teams don't always have the adequate resources or staffing to run the solutions meant to keep their environments secure and audit-ready. Tripwire ExpertOps delivers industry-leading file integrity monitoring (FIM), security configuration management (SCM), and vulnerability management (VM) as a managed service.
Personalized consulting and ongoing support from a designated Tripwire expert helps you put your focus on detecting breaches, staying in compliance, and remediating vulnerabilities. The solution is easy to deploy and use, with simple subscription pricing and a low total cost of ownership. Tripwire ExpertOps helps organizations rapidly achieve a foundational level of security throughout their infrastructure—from on premise to cloud— by reducing the attack surface, increasing system integrity, and achieving continuous compliance—all via cloud-based infrastructure. It provides stretched teams an alternative to the difficult process of purchasing, deploying and maintaining products.
Benefits
Ongoing support: You'll be matched with a designated Tripwire expert who serves as an extension of your team by providing personalized advice, incident assistance and audit support. You'll receive recommendations and organizational grading to maximize the value of Tripwire Enterprise, as well as regular alerts and reports in your inbox.
System transparency: How can your security team prioritize which system changes to address if they don't have deep visibility, let alone a detailed understanding of which changes are relevant? Tripwire ExpertOps provides you with 24/7 security and compliance visibility via a customized dashboard.
Cloud-hosted infrastructure: Tripwire ExpertOps is built on the Microsoft Azure cloud computing platform. That means service can scale quickly to meet changing needs while maintaining the highest standards of security—no extra hardware required. A single-tenancy model ensures your data remains distinct from all other accounts.
How it Works
Tripwire ExpertOps provides you with continuous staffing to operate and deliver core cybersecurity controls like FIM, SCM, and VM. The solution adapts to your objectives—reports and profiling tasks are customized to meet your organizational priorities. You will regularly receive expert guidance to ensure that your environment is secure and that critical vulnerabilities are quickly remediated. You'll gain visibility via 24/7 access to security, compliance, and vulnerability information via a detailed yet easy-to-understand dashboard.
Your Tripwire expert will act as an extension of your team by prioritizing work efforts, managing critical escalations, and presenting results to stakeholders. Together, you will jointly develop a service plan that outlines communication practices, escalation procedures, and any specialized requests.
Prescriptive policy and vulnerability remediation guidance to ensure the most critical changes and vulnerabilities are identified quickly
Recommendations for maximizing automation capabilities for security and event alerting practices, change management process integrations, and audit prep activities
Prioritized remediation to identify opportunities to reduce risk and efficiently improve security posture
Quarterly CISO and executive review of achievements towards objectives, insight into ongoing improvement, and utility of the environment
Organizational grading for each accountable department to provide visibility into groups needing additional resources and attention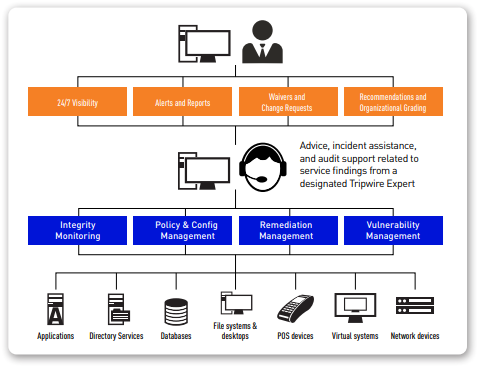 Best-In-Class Security with No Additional Resources
Tripwire ExpertOps combines four foundational capabilities to help organizations improve and maintain their security posture without adding resources:
Tripwire File Integrity Manager is the world's first and best FIM technology. It checks across large heterogeneous environments to provide threat detection and instant insight into configuration vulnerabilities while increasing operational efficiency by reducing configuration drift and unauthorized change. Combined with Tripwire Policy Manager, it delivers change-triggered configuration assessment and other system configurable responses. This turns a "passive" configuration assessment into a dynamic, continuous, and real-time defensive solution that immediately detects deviations from expected, secure configuration standards and hardening guidelines. Your Tripwire expert will refine FIM results so that reporting is actionable and that the most important configuration lapses drive work activity.
Tripwire Policy Manager establishes and maintains continuous monitoring and configuration assessment across large heterogeneous environments using a comprehensive library of policies and platforms. Tripwire Policy Manager also offers customizable policies, waiver and exception management, automated remediation guidance, and prioritized policy scoring with thresholds, weights, and severities. It does all this while providing auditors with evidence of compliance and making policy status highly visible and actionable for compliance teams. Your Tripwire expert will work closely with auditors to provide reusable reporting that answers Tripwire-related questions in the proper context without requiring an auditor that understands the technology.
Tripwire Remediation Manager provides built-in guidance to repair drifted, misaligned security configurations while retaining role-based management, approvals, and sign-offs for repairs. This helps operations teams more easily and efficiently know what failed and how to return systems into a production-ready state—and once they're in production, keep them there. Investigation and drill-down capabilities give teams the ability to rapidly and effectively determine root causes. Systems inevitably change as enterprises constantly revise and change their people, processes, and technologies. Tripwire ExpertOps delivers granular drill-down, side by side comparisons, historic baselines and comparisons. These capabilities quickly provide investigative teams what they need to know: what changed, when, by whom and how often, along with "how" information.
Tripwire IP360™ uses advanced analytics and a unique quantitative scoring algorithm based on several factors—including the ease and impact of exploit—to prioritize vulnerabilities for remediation. This capability, delivered along with expert advice from your designated Tripwire expert, results in actionable data that enables IT security teams to focus on the tasks that will quickly and effectively reduce overall risk. Tripwire ExpertOps gives you all the security benefits of a mature VM program without the resource strain.
Tripwire Configuration Manager provides periodic assessment of your cloud accounts, storage buckets, and blobs, and then compares them with the Center for Internet Security (CIS) Foundations Benchmarks. It gives you the ability to monitor the configuration of Amazon Web Services (AWS) and Azure-based assets from a single console. Automated enforcement and risk scoring help maintain secure configurations in your cloud accounts.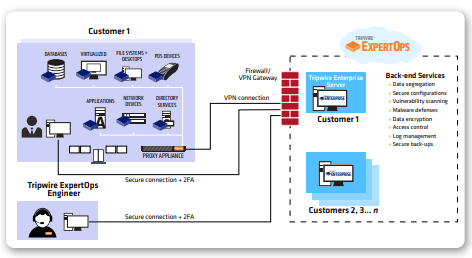 Enterprise Support
Tripwire ExpertOps operates with agents or agentlessly, and supports:
All major OSes: Windows, Red Hat, SUSE, Solaris, macOS, Debian, CentOS, etc.
Many vendor-specific OSes: AIX, HP-UX, etc.
Directory services: Active Directory, LDAP, etc.
Network devices: firewalls, IPS and IDS configurations, routers, etc. 
Databases: Oracle, SQL Server, Db2, etc.
Continuous monitoring via secure cloud infrastructure
Image

Summary
Get 24/7 visibility without deploying additional hardware, databases, and back-end software. Tripwire ExpertOps is built on a cloud platform allowing it to quickly scale to meet your needs while maintaining high levels of security. The service uses a single-tenancy model to ensure that data remains segregated between customer accounts. Tripwire applies multiple controls for security and privacy of your data, including secure configurations, vulnerability scanning, data encryption, malware defenses, access control, log management, multi-factor authentication and much more 
Image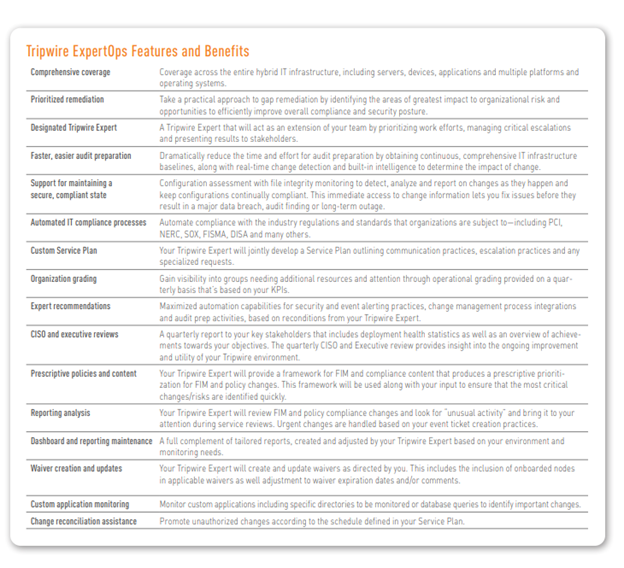 Ready to Take the Next Step?
Get in touch with your Tripwire Account Manager to develop a custom Service Plan for Tripwire ExpertOps.
Contact Us