Tripwire Device Profiler
Tripwire Device Profiler is a vulnerability scan engine appliance that can discover and profile every IP-enabled device on the customer's network to determine the applications, services,operating systems, protocols, and vulnerabilities that may put an asset at risk. Tripwire Device Profiler executes vulnerability scans and passes the scan data via SSL encryption to Tripwire VnE Manager for storage and analysis.
Tripwire Device Profiler is hardened (extremely secure) and rugged (industrial grade 1RU chassis with flash based storage). The operating system image is extremely small and updates to Tripwire Device Profiler are managed through the Tripwire VnE Manager, which means extremely low maintenance and simple configuration for the customer.
Tripwire Vulnerability and Exposure Manager
Tripwire Vulnerability and Exposure (VnE) Manager is a vulnerability management central console that provides a one to many relationship with Tripwire Device Profilers—Tripwire VnE Manager is able to control, upgrade, and collect scan data from them. Tripwire VnE Manager also allows the customer to access stored scan data, perform analysis and trending of the scan data, and create a variety of reports.
Tripwire VnE Manager consists of a hardened industrial grade server, which utilizes a high performance processor architecture incorporating Intel Xeon processors and RAID based hard disk storage.
Tripwire VnE Manager uses an industrial strength PostgreSQL database for the storage and retrieval of data and also runs Apache server software that allows the it to be controlled through a web-based user interface. This allows multiple users (with highly granular role based access control) to access a single Tripwire VnE Manager to simultaneously execute scans, run reports, and conduct scan data analysis.
Image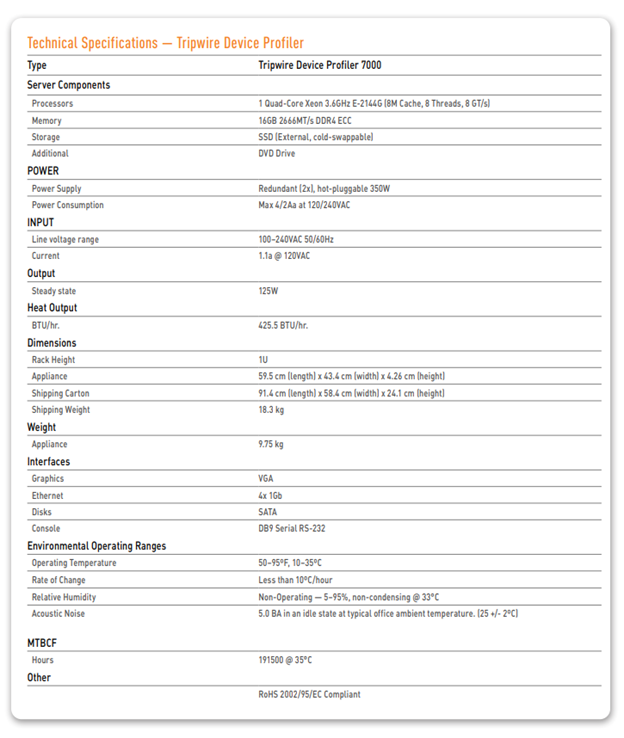 Image