Image The threat landscape has grown considerably since the the first PC arrived on the tech scene in the 1980s. Indeed, as the amount of information transmitted and stored by organizations has grown, we have seen a corresponding increase in computer crime. Today, approximately one million new malware samples are developed each day. External actors use that malicious software to target individuals and businesses alike. Additionally,
malicious insiders
try to make off with and peddle companies' sensitive data for their own personal gain. As the threats facing organizations have evolved, endpoints have also changed. No longer are they "anything with a keyboard." Endpoints now include servers, mobile devices, kiosks, point-of-sale devices, HVAC, medical equipment, industrial control systems, cameras, automotive vehicles, and a number of other "smart" technologies. Given this proliferation of threats and devices, we as security professionals need to look for solutions that offer protection, monitoring, and support when it comes to securing business-critical assets. Those products also need to give us the ability to quickly respond to and remediate threats. But how does one go about to protect an endpoint?
Image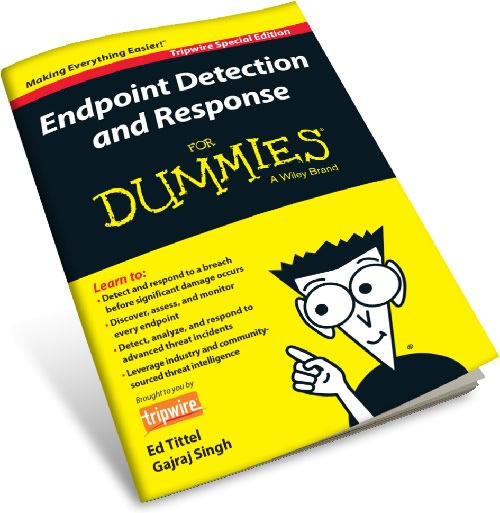 To answer that question, Tripwire has published
Endpoint Detection and Response For Dummies
, a resource that security personnel can use to gain a better understanding of how to deploy and manage security for many different kinds of endpoints. In its first chapter, the book focuses on understanding endpoints and how to better protect them. IT provides a useful endpoint management framework by which security professionals can apply four key elements--asset, threat, risk, and exposure--to any situation. It then goes beyond that basic understanding to introduce endpoint detection and response (EDR), a proactive defense model that relies on four core processes: detection, response, investigation, and remediation. At a minimum, EDR helps an organization reduce its attack surface and respond to and mitigate threats, but at its full potential, more advanced EDR systems can help predict how an attack might occur.
For a deeper understanding of what's involved in EDR, download Tripwire's eBook today.
Title image courtesy of ShutterStock