Image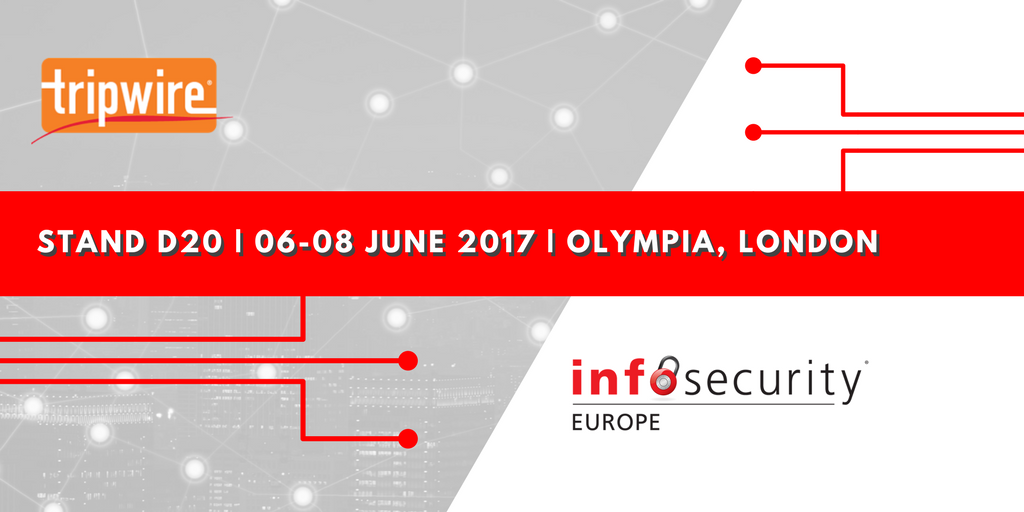 InfoSecurity Europe
is one of the largest and most respected security events held in Europe. Every year, tens of thousands of students, professionals and experts in information security flock to London's Olympia for this free conference. In 2014, 11,500 visitors from over 70 countries registered for InfoSecurity Europe. The number of attendees jumped to 18,000 visitors in 2016. With eight theaters and full CPE/CPD (Continuing Professional Education/Development) accreditation, Infosecurity Europe 2017 will no doubt be bigger and better than ever. Tripwire intends to make the most out of this year's event, which is among
The State of Security
's
top infosec conferences of 2017
. Let's look inside Tripwire's beer cooler for Infosec 2017.
Happy Hour, Prizes and MORE!
Tripwire will be at
Stand D20
(Find it on a map
here
.) between 09:30 and 17:30 on 6-7 June 2017 and between 09:30 and 16:00 on 8 June 2017. During those times, don't miss the company's in-booth speaker series, where presenters will demonstrate Tripwire's products, share their security "war stories," and discuss the importance of implementing foundational controls. The team will thank everyone for coming by raffling off a prize at each speaking session. For Tripwire's full speaker line-up, see the schedule below.
Image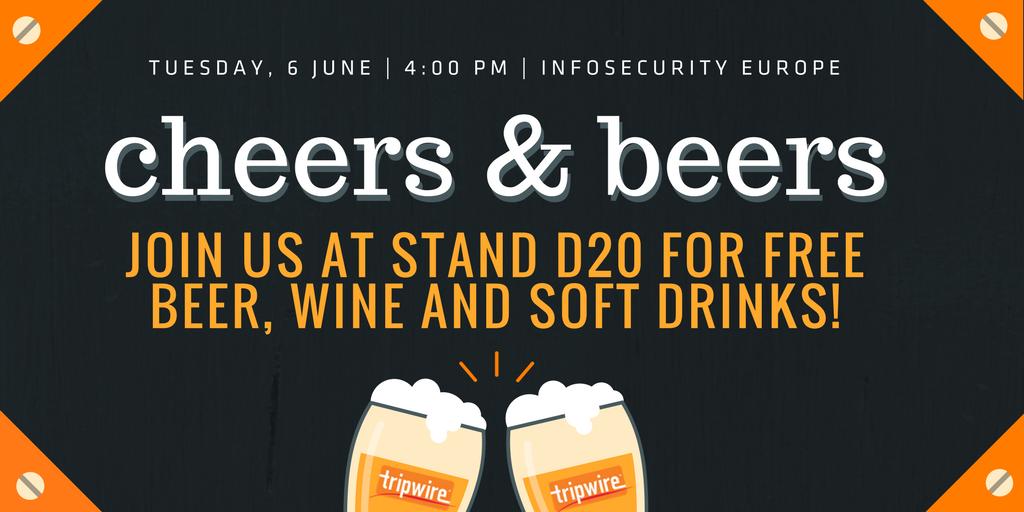 Don't forget to stop by during Tripwire's "Happy Hour" between 15:30 and 17:30 on 6 June 2017. As the first day of the comes to a close, attendees can unwind with one of Tripwire's six "cyber security six pack" beers and enter a raffle to win an Amazon Echo. Not a beer fan? You can enjoy a glass of wine or a soft drink, instead. If you're looking for something memorable to take home, choose from Tripwire's six T-shirt designs – one for each of the top six foundational security controls. Don't forget to talk to caricature artist Chrissy while you're there. He will be drawing visitors along a "beer meets foundational controls" theme.
Image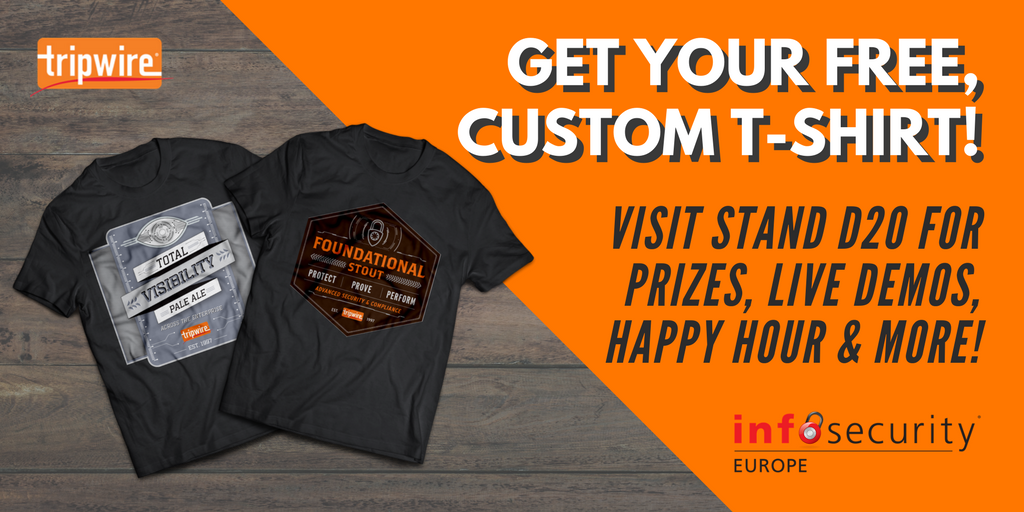 Lastly, make sure to keep a look out for Tripwire at other times throughout the conference. At one point, there will be a presentation with Infinigate at their Booth, D220. And finally, Tim Erlin, Tripwire's Vice President of Product and Strategy, will also participate in the panel discussion
CISO Confessions: Security Lessons Learned from Modern Day Cyber-Attacks
on 7 June 2017 at 14:00. Hope to see you there!
In-Booth Speaking Schedule
Tuesday, 6 June 2017
Time
Company/Speaker
Title
10:00 AM
Tripwre/PJ Norris
Fifty Shades of FIM
10:30 AM
Lastline/Jamie Moles
Lastline Enterprise: Defeating Advanced Malware
11:00 AM
ServiceNow/Chris Hill
Tripwire Enterprise Integration with ServiceNow
11:30 AM
First Base Technologies/Peter Wood
TARA and Red Teaming: Foundational Controls?
1:00 PM
Tripwire/Ed Smith
Herding Pets and Cattle: Extending Foundational Controls into the Cloud
1:30 PM
Tripwire/David McKissick
Excellence in the Essentials: Why Successful Implementation of the Foundational Controls Can Help
2:00 PM
Author-Thought Leader/Jane Frankland
People: Back to Cybersecurity Basics
2:30 PM
Tripwire/Tim Erlin
Longing for Logs: What You're Missing Without Centralized Log Management
3:00 PM
Tripwire/Chris Fisher
Securing Industrial Control Systems – Easy as 1-2-3
4:00 PM
HAPPY HOUR
Wednesday, 7 June 2017
| | | |
| --- | --- | --- |
| Time | Company/Speaker | Title |
| 10:00 AM | Tripwire/Tim Erlin | Longing for Logs: What You're Missing Without Centralized Log Management |
| 10:30 AM | Author-Thought Leader/Jane Frankland | People: Back to Cybersecurity Basics |
| 11:00 AM | Tripwire/Ed Smith | Herding Pets and Cattle: Extending Foundational Controls into the Cloud |
| 11:30 AM | IBM/Russell Warren | IBM QRadar and Tripwire, Together and Better |
| 1:00 PM | Tripwire/PJ Norris | Fifty Shades of FIM |
| 1:30 PM | Splunk/James Hanlon | Splunk and Tripwire Integration |
| 2:00 PM | FireEye/Stephen Davies | Industrial Control Systems: Facing the Cyber Threat |
| 2:30 PM | ServiceNow/Chris Hill | Tripwire Enterprise Integration with ServiceNow |
| 3:15 PM | Publicis Groupe/Thom Langford | Three Amazing Simple Tricks to Securing Your Enterprise (You Won't Believe Number Three!) |
| 3:30 PM | Tripwire/Paul Edon | Brace Yourselves, The EU GDPR Is Coming: Are You Ready? |
| 4.00 PM | Canon - Europe/Quentyn Taylor | IOT and Print the Elephant in the Room |
| 4:30 PM | Tripwire/Ben Layer | Assessing Your AWS Cloud with Tripwire |
Thursday, 8 June 2017
| | | |
| --- | --- | --- |
| Time | Company/Speaker | Title |
| 10:00 AM | Author-Thought Leader/Jane Frankland | People: Back to Cybersecurity Basics |
| 10:30 AM | Lastline/Jamie Moles | Lastline Enterprise: Defeating Advanced Malware |
| 11:00 AM | Tripwire/PJ Norris | Fifty Shades of FIM |
| 11:30 AM | IBM/ Rich Telljohann | IBM QRadar and Tripwire, Together and Better |
| 1.00 PM | Publicis Groupe/Thom Langford | Three Amazing Simple Tricks to Securing Your Enterprise (You Won't Believe Number Three!) |
| 1:30 PM | Tripwire/Ben Layer | Assessing Your AWS Cloud with Tripwire |
| 2:00 PM | Tripwire/Paul Edon | Brace Yourselves, The EU GDPR Is Coming: Are You Ready? |
| 2:30 PM | Tripwire/Ed Smith | Herding Pets and Cattle: Extending Foundational Controls into the Cloud |
| 3:00 PM | Tripwire/David McKissick | Excellence in the Essentials: Why Successful Implementation of the Foundational Controls Can Help |