Image A group of Muslim activists hacked a 'secure' mailing list used by the ISIS terrorist group and published 2,000 of its email subscribers online. On 10 November, a spokesperson for Amaq, one of the Islamic State's key outlets for communicating with its supporters and members, sent out an email written in Arabic to its subscribers. The update acknowledged a string of digital attacks that have targeted Amaq and revealed the organization's ongoing efforts to secure itself against external hackers. As
quoted by The Independent
:
"In response to recent events, we have imposed more stringent security measures on our systems. We can now handle email attacks or any type of hack."
It didn't take long for the email to reach some of the hacking collectives targeting ISIS's websites and servers. A group that calls itself "Di5s3nSi0N" appears to have been among the first. The band of Muslim activists apparently saw the email as an opportunity to advance #silencethewords, an online campaign which is reportedly set to culminate on 17 November. https://twitter.com/Di5s3nSi0N__2/status/929066330715820037 As a result, Di5s3nSi0N didn't waste any time in responding. Within three hours, Amaq's subscribers received another email. This message bore the activist group's logo as well as the following declaration:
"We have hacked the full 'secure' email list for Amaq. Daesh...shall we call you dogs for your crimes or snakes for your cowardice? We are the bugs in your system."
The email also included 1,784 subscribers of Amaq's mailing list.
Image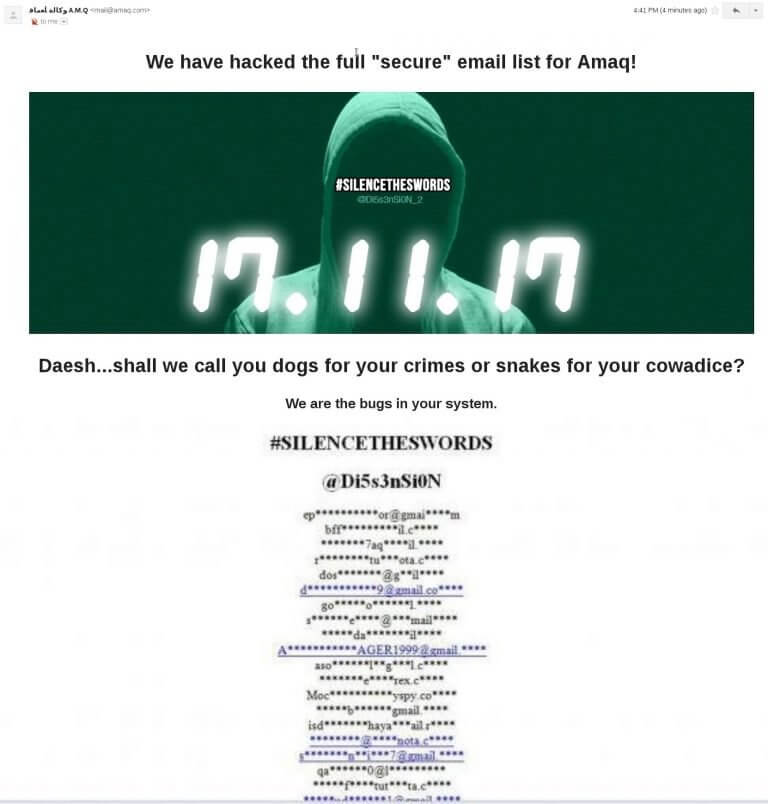 A screenshot of the hacked Amaq email subscribers. (Source:
The Independent
) This attack represents the latest blow to Amaq, which has fled primarily to encrypted messaging services amidst increasing interest from anti-ISIS hacking collectives. At this time, the outlet's website is unavailable, and its Tumblr account is not updated. Only its Telegram channel remains active. As ISIS continues to lose territory, hacker groups have ramped up their attacks against the terrorist group's online presence. It's therefore not surprising that Di5s3nSi0N has revealed no intention to relent anytime soon. https://twitter.com/Di5s3nSi0N__2/status/929107205558820865 News of this hack comes more than two years after ISIS and its sympathizers conducted high-profile
digital attacks of their own against western media outlets
including
TV5MONDE
.