Image

Black Hat USA – one of the most anticipated security events of the year, and recently ranked among our
top information security conferences
– returns to Las Vegas this August for its 18th year. With an expected 9,000 attendees, this year's conference will offer over 100 briefings on the latest and most innovative security research from industry experts around the world. From technical trainings, networking opportunities and a show floor with more than 150 exhibiting vendors, this six-day conference is sure to be a rewarding experience for both first-timers and Black Hat veterans. To help you make the most of your time at the conference, we've rounded up some of our in-booth activities and exciting sessions you don't want to miss.
Booth 141
Make sure to visit our booth for an array of insightful presentations from our very own experts and technology partners, including Splunk, Palo Alto and Lastline. You'll hear from CISOs and Tripwire customers, as they share their knowledge on the Art of Cyberwar and prepare you for battle. Attend any of our live presentations and you'll be entered to win a drone!
Image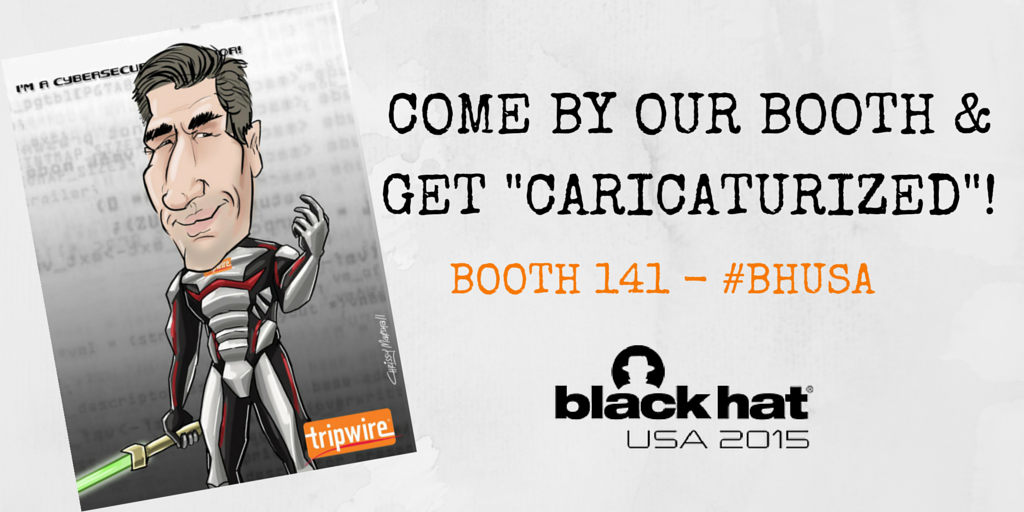 On Wednesday, August 5, join us for happy hour and a book signing with author Adam Shostack. The first 250 attendees to stop by will receive a free copy of his book, Threat Modeling: Designing for Security.
Also, pick up a free, customized t-shirt with one of our cyber warrior avatar designs and don't miss the opportunity to get yourself "caricaturized" by a talented cartoon artist!
Sessions
My Bro the ELK: Obtaining Context from Security Events
by Travis Smith, Sr. Security Analyst, Tripwire
There are a number of powerful open source tools that empower us to collect, store and visualize data in our environments, as well as provide rich context using external threat intelligence. However, given the amount of data to sift through it can make us complacent and miss important indicators. Instead of having to sift through this data to identify important pieces of information, what if we could automate and orchestrate integrations across the various systems to help us identify and act on real threats? At Black Hat, we will be releasing a tool that integrates several popular open source and commercial security frameworks to do just that. In this presentation we will highlight the use of ELK (ElasticSearch, Kibana, and LogStash), Bro IDS, and community threat intelligence feeds. By combining these frameworks with threat intelligence providers, security professionals can obtain the business and security context to the events flowing through their environment. We will also be releasing the open source framework that will automate the collection of evidence for incident response for quicker response times by security teams.
In-Booth Speaking Schedule
Wednesday, August 5:
| | | |
| --- | --- | --- |
| Time | Speaker/Company | Title |
| 11:00 AM | Terry Ramos, Palo Alto | Palo Alto Networks & Tripwire: Enhanced Protection for your Critical Servers |
| 11:30 AM | Jeff Pollard, Lastline | Great Victories Require No Battle: Integrating Endpoint Workplace to Stop Attacks Before |
| 12:00 PM | Ken Westin, Tripwire | Exploits of Mass Destruction: Preparing for More High-Impact Vulnerabilities |
| 12:30 PM | Mandy Huth, Tripwire | Are You Prepared for Cyberbattle? Arming Your Troops |
| 1:00 PM | Ken Baylor, CSO, Pivotal Software | Cybercrime Tools: New Uses and Abuses |
| 1:30 PM | Travis Smith, Tripwire | Know Thy Enemy, Know Thyself: Adopting Threat Intelligence |
| 2:00 PM | David Newman, Telus | Homeland Security: The Tripwire Way |
| 2:30 PM | Quinn Shamblin, CISO, Boston University | Using the Top 4 Critical Controls for Effective Cyber Defense |
| 3:00 PM | John Johnson, CISO, John Deere | Don't Become Collateral Damage in a Cyberwar |
| 3:30 PM | Todd Bell, CISO, Intersec | What's the Big Deal About End Point Detection? |
| 4:30 PM | Adam Shostack, Author | Presentation and Book Signing |
| 5:00 PM | Happy Hour | At ease, Warriors! |
Thursday, August 6:
| | | |
| --- | --- | --- |
| Time | Speaker/Company | Title |
| 11:00 AM | Travis Smith, Tripwire | Know Thy Enemy, Know Thyself: Adopting Threat Intelligence |
| 11:30 AM | Jeff Pollard, Lastline | Great Victories Require No Battle: Integrating Endpoint Workflow to Stop Attacks |
| 12:00 PM | Terry Ramos, Palo Alto | Palo Alto Networks & Tripwire: Enhanced Protection for your Critical Servers |
| 12:30 PM | James Brodsky, Splunk | Tripwire + Splunk: Partnering to Provide You with Better Security Intelligence |
| 1:00 PM | Quinn Shamblin, CISO, Boston University | Using the Top 4 Critical Controls for Effective Cyber Defense |
| 1:30 PM | Ken Baylor, CSO, Pivotal Software | Cybercrime Tools: New Uses and Abuses |
| 2:00 PM | David Newman, Telus | Homeland Security: The Tripwire Way |
| 2:30 PM | Ken Westin, Tripwire | Traitors Among Us: Insider Threat Kill Chain |
| 3:00 PM | John Johnson, CISO, John Deere | Don't Become Collateral Damage in a Cyberwar |
| 3:30 PM | Todd Bell, CISO, Intersec | What's the Big Deal About End Point Detection? |
| 4:00 PM | Craig Young, Tripwire | Black Ops Recon: Finding Your Faults First |