Image A Chinese intelligence officer has been extradited to the United States after being charged with conspiracy to commit economic espionage against certain U.S. firms.
Image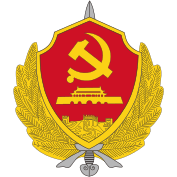 Logo of the Ministry of State Security. (Source: Wikipedia) On 10 October, the U.S. government unsealed an indictment filed by a federal grand jury in the Southern District of Ohio against Yanjun Xu, aka Qu Hui, aka Zhang Hui. The indictment charged Xu with conspiracy to commit economic espionage against and to steal trade secrets from U.S. aviation and aerospace companies. This unsealing came a day after Xu's extradition to the United States by Belgium, where authorities arrested him on 1 April. Assistant Attorney General for National Security John C. Demers was one of the individuals who announced the charges. He said the indictment provides insight into economic forces within China. As quoted by the
U.S. Department of Justice
:
This indictment alleges that a Chinese intelligence officer sought to steal trade secrets and other sensitive information from an American company that leads the way in aerospace. This case is not an isolated incident. It is part of an overall economic policy of developing China at American expense. We cannot tolerate a nation's stealing our firepower and the fruits of our brainpower. We will not tolerate a nation that reaps what it does not sow.
The Justice Department identified Xu as an operative of the Ministry of State Security (MSS), China's security and intelligence agency which is responsible for counterintelligence, foreign intelligence and political security. As a Deputy Division Director with the MSS's Jiangsu State Security Department, Sixth Bureau, Xu targeted leading companies within the U.S. aviation and aerospace sector by inviting them to come to China and deliver university presentations. Xu obtained sensitive corporate information from those individuals who agreed to come and shared that data with the Nanjing University of Aeronautics and Astronautics, reported
The Washington Post
. If convicted, Xu could receive 15 years in prison for the economic espionage charge, 10 years for attempting to steal trade secrets and a court order to pay financial penalties. News of these charges come more than two years after a U.S. federal court
sentenced
a Chinese businessman to 46 months in prison for his conspiracy to hack several U.S. military contractors.