Image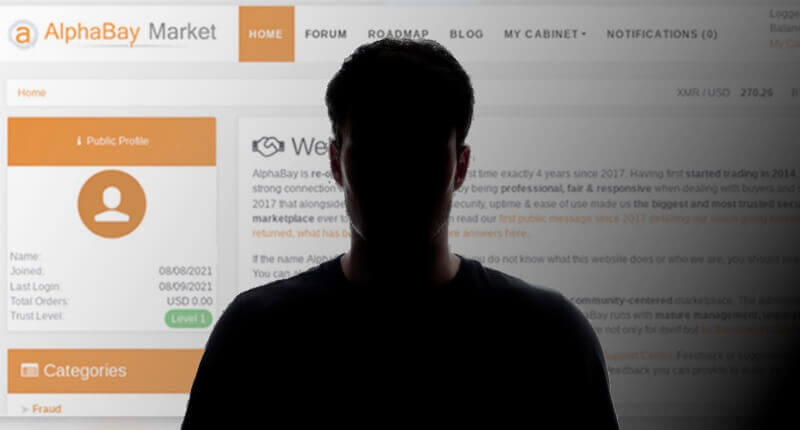 A Canadian man has been handed a three year prison sentence after being found guilty of buying and selling over 1700 stolen identities on a dark web marketplace.
29-year-old Slava Dmitriev, who went by the online handle of "GoldenAce", bought and sold individuals' personal private information, including social security numbers, on the AlphaBay dark web marketplace in 2016 and 2017.
Between May 2016 and July 2017, Dmitriev is said to have stolen 1,764 items on AlphaBay, making himself approximately US $100,000.
Most of the information stolen consisted of stolen identities, such as names, dates of birth, and social security numbers.
To add to his misdemeanours, Dmitriev made contact with The Dark Overlord, a high profile hacking gang who at the time had made quite a name for itself by not just stealing sensitive information from compromised computer networks, but also demanding a ransom be paid.
Sadly, such hack-then-blackmail tactics have now become commonplace.
According to a Department of Justice press release, Dmitriev collaborated with The Dark Overlord (TDO) by:
Selling TDO access credentials for a New York dentist that Dmitriev had purchased on a criminal marketplace. The dentist was subsequently breached and extorted by TDO.
Receiving a spreadsheet from TDO containing approximately 200,000 stolen identities.
Selling data stolen by TDO that contained the identity of a victim living in La Quinta, California.
Dmitriev was arrested by authorities in September 2020 while on vacation in Greece. A search of his holiday residence by Greek authorities uncovered emails discussing the purchase and sale of identities and social security numbers, as well as a "how to" video on identity theft.
Dmitriev was extradited by Greek police to the United States in January 2021, and has now been sentenced to three years in prison, which will be followed by three years of supervised release.
On the same day as the Department of Justice's announcement of Dmitriev's sentencing, news also broke that Canadian officials had taken down Canadian HeadQuarters, said to be "one of the largest Dark Web marketplaces in the world and significantly contributed to harmful cyber activity in Canada."
CanadianHQ was a popular marketplace for the sale of criminal spamming services, phishing kits, stolen credentials and access to compromised PCs.
---
Editor's Note: The opinions expressed in this guest author article are solely those of the contributor, and do not necessarily reflect those of Tripwire, Inc.