Image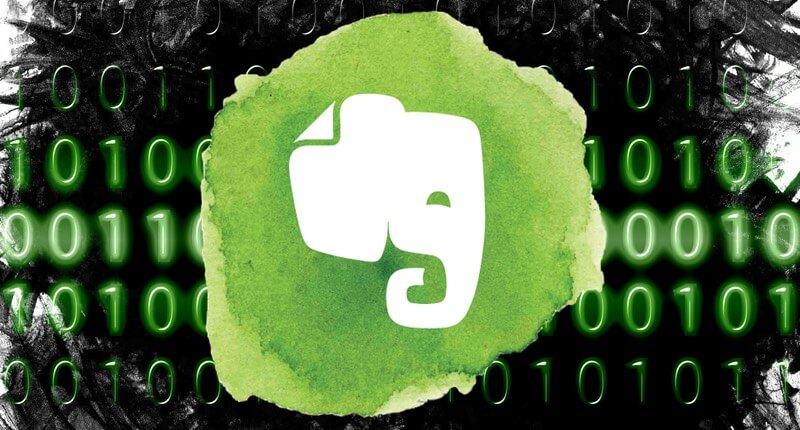 In January 2017, note-taking app Evernote is set to introduce a
new privacy policy
that introduces
machine learning
features. The privacy policy has got many users hot under the collar, fearful that some Evernote employees will be able to read their notes. There is no option to opt-out.
Image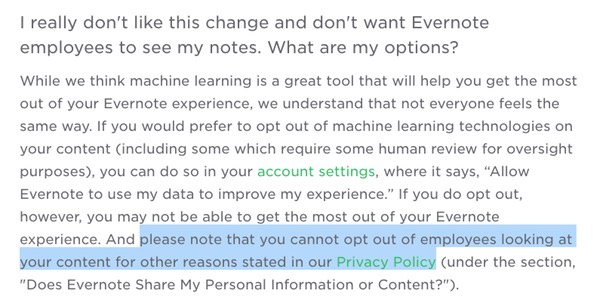 While we think machine learning is a great tool that will help you get the most out of your Evernote experience, we understand that not everyone feels the same way. If you would prefer to opt out of machine learning technologies on your content (including some which require some human review for oversight purposes), you can do so in your account settings, where it says, "Allow Evernote to use my data to improve my experience." If you do opt out, however, you may not be able to get the most out of your Evernote experience. And please note that you cannot opt out of employees looking at your content for other reasons stated in our Privacy Policy (under the section, "Does Evernote Share My Personal Information or Content?").
Cue outrage across social media.
Image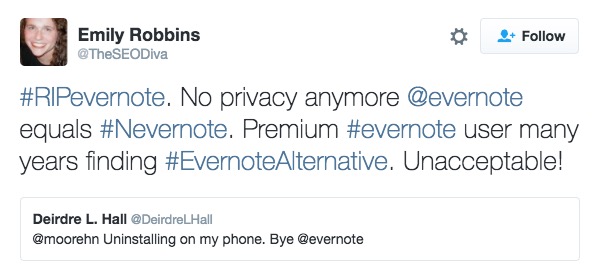 Image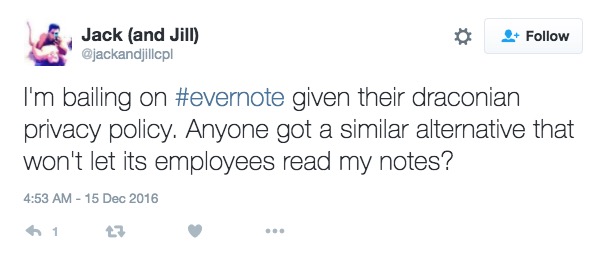 Image

However, if you read the proposed privacy policy closely, you would realise that some Evernote employees have
always
been able to access your account and potentially read your notes for a number of reasons that
earlier versions of the privacy policy
have made clear. Here are the reasons why some Evernote employees are authorised to read your notes right now:
We believe our Terms of Service has been violated and confirmation is required or we otherwise have an obligation to review your account Content as described in our Terms of Service;
We need to do so for troubleshooting purposes;
Where necessary to protect the rights, property or personal safety of Evernote and its users (including to protect against potential spam, malware or other security concerns);
In order to comply with our legal obligations, such as responding to warrants, court orders or other legal process. We vigilantly protect the privacy of your account Content and, whenever we determine it possible, we provide you with notice if we believe we are compelled to comply with a third party's request for information about your account. Please visit our Information for Authorities page for more information.
The new Evernote privacy policy doesn't change any of this. What it does is introduce new machine-learning features to Evernote (which you
can
opt-out of if you wish), and yet the new privacy policy has accidentally highlighted to users that Evernote's private notes weren't quite as private as they imagined. In short, if you're upset that Evernote's proposed new privacy policy will mean staff can read your notes, you haven't read the existing privacy policy carefully enough. Let's be honest. Nobody reads terms & conditions and privacy policies when they sign up for a service. The current kerfuffle over Evernote's upcoming privacy policy change has highlighted an existing situation that users
should
have known about but to which clearly many were oblivious. If you don't like the idea of a cloud-based service being able to access your account or fulfilling legitimate requests from law enforcement to know what you've been up to, then there's only one answer: to use a zero-knowledge service where you hold the encryption keys to your data rather than your service provider. Be aware, however, that such secure services may not have some of the sexy, shiny features that are the reasons that you chose the likes of Evernote in the first place. You make your choices, and you take your chances.
Editor's Note:
The opinions expressed in this guest author article are solely those of the contributor, and do not necessarily reflect those of Tripwire, Inc.