Image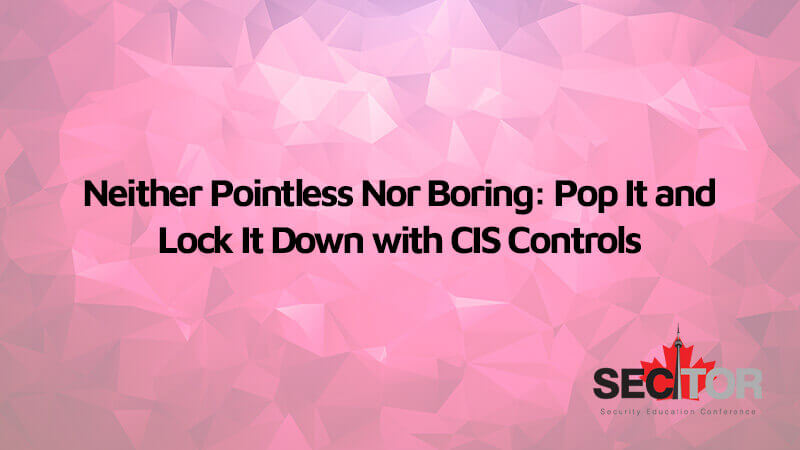 I'm delighted to share that I will be speaking for the first time at SecTor this year. The talk will be in Theatre 1 at 1:15pm on October 5th. In the session Neither Pointless Nor Boring: Pop It And Lock It Down With CIS Controls, I will be discussing the latest version of CIS Controls. There are 18 Controls in Version 8. We will review these before diving into more detail on the 5 controls from the list that, in my opinion, could have the greatest impact once implemented.
In the tech industry, there are no shortage of frameworks for professionals to choose from. Working in cybersecurity I've noticed, that just like Spotify picking music artists that fit my personality and style of music, there is a framework that is tailored to the industry you work in. Last year I was introduced to CIS Controls while researching a series of blog posts and they stood out to me with their practicality and ease of implementation. If you want to dig into the CIS Controls before this session, feel free to read the series of posts, which highlight the key takeaways from each control.
A common opinion of most frameworks is that they're not exactly exciting to read and implement, but they are mission critical when it comes to keeping organizations safe and secure. Therefore, I came up with the idea to present the CIS Controls with a twist. A quote that rings true by famous footballer Johann Cruyff is, "Quality without results is pointless. Results without quality is boring." If you find it boring and pointless, you're doing it wrong. So, to make sure we do this right, I added a little flare by bringing in some dance moves that can paint a picture of an evolving organization implementing these Controls.
During this talk we will discuss the CIS Controls and explore several of the controls that in my opinion could have the greatest impact once implemented. So, if you're looking for a not boring and not pointless talk about CIS Controls, come on down to the dance floor with me for Neither Pointless Nor Boring: Pop It and Lock It Down with CIS Controls.