Image A 20-year-old man has pleaded guilty to targeting more than a thousand members of streaming video platform Twitch with an army of spambots. On 1 May, Brandan Lukas Apple confessed to a charge of "mischief in relation to computer data" before a Port Coquitlam provincial court judge. The court responded by handing down a four-month conditional sentence order, reports
Tri-City News
. This type of pronouncement allows Apple to serve his sentence outside of prison. Apple received the criminal charge for an incident that occurred between February and May of 2017. According to
CBC News
, the young man developed chatsurge[dot]net, a "simple service to flood, destroy, just simply demolish any TwitchTV chatroom," and deployed it during that time against more than a thousand Twitch users. Their channels subsequently filled up with 150,000 spam messages containing racist, homophobic and other offensive language.
Image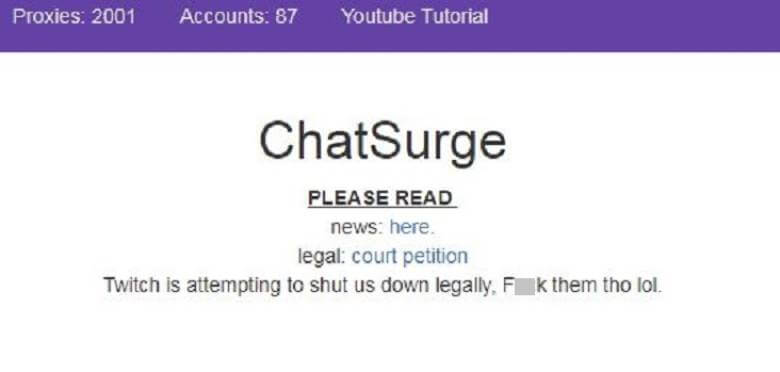 A screenshot of chatsurge after Twitch went to the British Columbia Supreme Court to stop the attacks. Twitch responded by launching an investigation into the attacks. After spending 300 hours on the case, employees at the social media platform traced chatsurge[dot]net back to Apple. It's then that it filed a civil action against the young man. Here's a snippet from its complaint explaining the impact of Apple's service:
The volume of spam messages on the attacked channel was enormous. The bots were posting an average of 34 spam messages per minute, while on some channels the rate was 600 messages per minute. Twitch has received hundreds of individual reports regarding spam messages containing racism, homophobia, sexual harassment, links to shock imagery, false implications of view-botting and soliciting child sex exploitation material.
Twitch declined to comment on the sentence given to Apple, who is also prohibited by the court from developing or promoting "any robot, bot, crawler, spider, blacklisting software or other software" that could harm Twitch. News of Apple's sentence comes more than two years after a spammer
received two years in prison
for a bait and switch scheme that involved millions of illegal texts sent to mobile users.