Image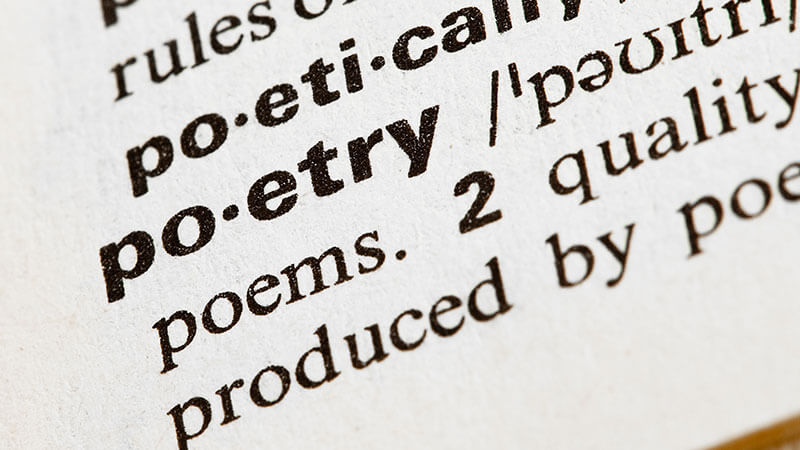 April is
National Poetry Month
, a time when we can celebrate poets and their craft. To join in the celebrations, we at the State of Security asked employees at
Tripwire
and in the wider infosec community to create and share some of their favorite cybersecurity-related poems with us. Here are some of our favorites from Twitter: https://twitter.com/TripwireInc/status/1247117056035688449 Thanks to
Ray Lapena
for this security haiku video. https://twitter.com/TripwireInc/status/1247119738800689153 A couple of poems from
Irfahn Khimji
. The latter inspired by his inner Shakespeare! https://twitter.com/TripwireInc/status/1247789328132014080 https://twitter.com/TripwireInc/status/1248139627929784321 If only Mary had that FIM solution… Thanks,
Paul Norris
! https://twitter.com/TripwireInc/status/1247823983665393666 This time a security haiku from
Tim Erlin
. https://twitter.com/terlin/status/1247528797160665095 Roses are red, Violets are blue, Here's a security poem from
Stu Peck
, Just for you… https://twitter.com/cybersecstu/status/1096439875807662080 The brilliant
John Odpenakker
shared a limerick that resonates too true! https://twitter.com/j_opdenakker/status/1247153958415519750 I thought I'd join in the fun… https://twitter.com/joepettit2/status/1247138018860957696
Brad W
doubts his ability to sqlmap. https://twitter.com/reassuringURL/status/1247513299475808256 Thanks to
MediaPro
for sharing their very timely working from home haiku: https://twitter.com/MediaPROInc/status/1247266604397637633 And finally, the last entry on Twitter from
James McLaren
: https://twitter.com/manfrommaralea/status/1247159532268240896 Those were just some of our favorites that were shared with the team throughout National Poetry Month. However, we decided to have a look around and see what else we could find! Here are some of our favorites.
I Made a New Password
I made a new password That no one could guess. It's long and confusing And truly a mess. It has random letters and numbers galore, with dozens of symbols and spaces and more. My password is perfect, completely secure, and no one will break it; of that I am sure. It's flawless and foolproof. I don't have a doubt. But, whoops! I forgot it and now I'm locked out. —
Kenn Nesbitt
Yesterday (The Beatles) -
Backup Poem
Image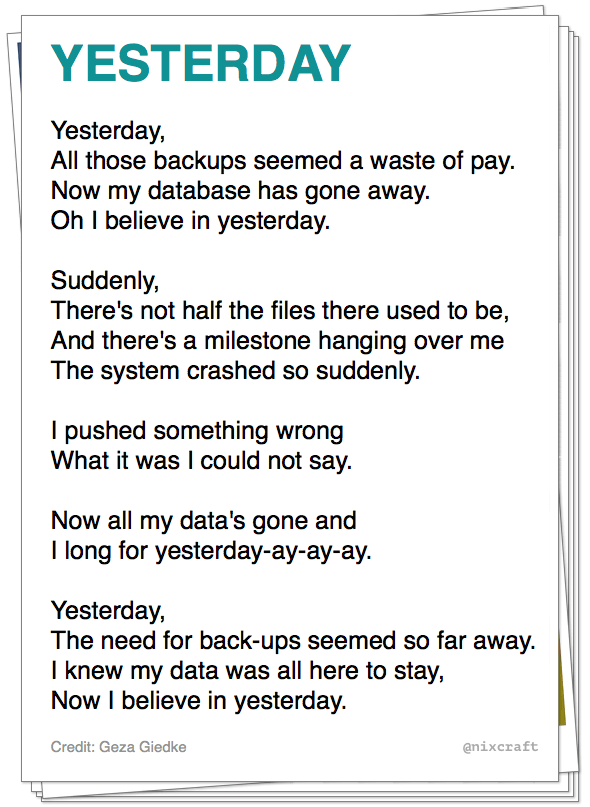 We discovered a few other fun poems on Twitter too: https://twitter.com/miz_j/status/1171417159802789888 https://twitter.com/brockwebb/status/1218570079933280257 https://twitter.com/NordLocker/status/1250808668842594304 To finish, we found this interesting article by
Camila Domonoske
around using poems as a way of creating stronger passwords. She calls them "passpoems". You can learn more about her theory
here
. If you've been inspired by reading all these cybersecurity-related poems and want to take part, add your contribution to
our tweet
or
email me directly
.