Image According to a recent survey, about 1 in 10 PC users (9.8 percent) in the US ran unpatched Windows operating systems in the first quarter of 2017 – up from 6.8 percent the previous year. The findings come from Flexera Software's latest
Personal Software Inspector Country Report
, which aims to highlight the state of security among PC users in the US and other countries based on scan data from its Personal Software Inspector. The report also found that the typical PC has a total of 73 programs installed from 26 different vendors – almost half (43 percent) of these are Microsoft programs. In other words, the report noted, users have to master 26 different update mechanisms to patch the dozens of programs on their PCs, in order to remediate vulnerabilities.
"Cybercriminals know that most private users consider regular security maintenance of their PC hard work," explains the report. "As a result, a lot of users have PCs that are inadequately patched and therefore easily compromised."
Image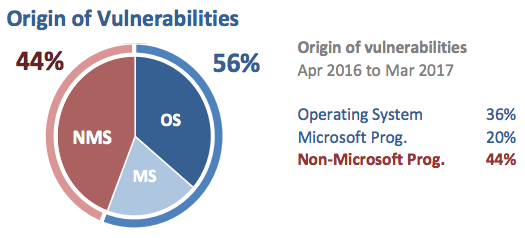 Source: Personal Software Inspector Country Report, USA - Q1 2017
When analyzing the origin of vulnerabilities, 36 percent of them came from the operating system – up from 21 percent last year. Another 20 percent came from Microsoft programs, with the remaining 44 percent originating from other vendors. During Q1 2017, 14.1 percent of non-Microsoft programs remained unpatched despite security updates being made available. Among the most exposed programs, the report identified the following top three: Apple iTunes 12.x (56 percent unpatched with 43 percent market share), Oracle Java JRE 1.8x/8.x (52 percent unpatched with 47 percent market share) and VLC Media Player 2.x (40 percent unpatched with 27 percent market share).
Image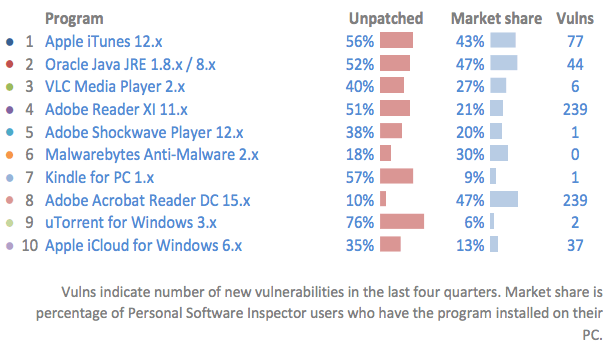 Source: Personal Software Inspector Country Report, USA – Q1 2017
Other key findings involved end-of-life (EOL) programs, with the average PC user in the US having roughly eight (7.8 percent) EOL programs installed that are no longer maintained or supported by the vendor. These included: Adobe Flash Player 24.x with an 80 percent market share, Microsoft XML Core Services (MSXML) 4.x with a 63 percent market share and Microsoft SQL Server 2005 Compact Edition with a 56 percent market share.