Image

British authorities have allegedly arrested another member of the hacker group 'Lizard Squad.'
The Daily Dot
recently broke the story after it received an email from
Vinnie Omari
, a 22-year-old member of the hacker group. "They took everything," Omari explained in the email, which allegedly also contained an image of the British authorities' search warrant for his home. "Xbox one, phones, laptops, computer USBs, etc." The hacker is being investigated for his
involvement in a string of PayPal thefts conducted between 2013 and 2014
. He is currently on bail and is required to attend a court hearing on March 10
th
. The Thames Valley police recently
confirmed the hacker's arrest
in a statement. On December 31
st
, Lizard Squad
announced on Twitter
that Finnish authorities had arrested Ryan, another member of the hacker group.
Image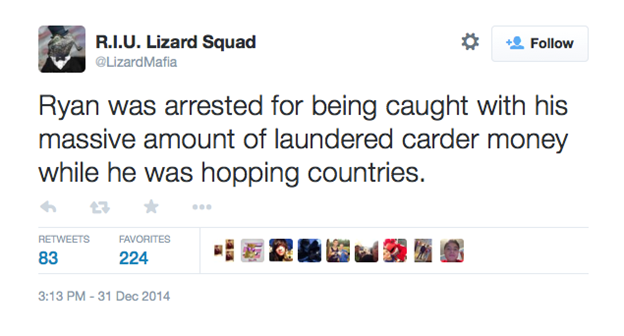 The FBI is holding Ryan for his suspected involvement in Lizard Squad's Christmas Day attacks. As such, he will remain in jail until he is brought to trial. On December 25
th
, Lizard Squad
launched a series of distributed denial of service (DDoS) attacks against PlayStation Network and Xbox Live
, subsequently causing network issues for both platforms that lasted several days. The hacker group has since created a DDoS-for-hire service called 'LizardStresser,' leading many to suspect that their attacks against PSN and XBL were meant to market their capabilities. On the same day that Ryan was arrested, Brian Krebs posted on
article on his website
in which he labels the group's members as "misguided youngsters" who have little to no actual expertise in hacking or computer security. Krebs' article has since elicited a series of tweets from Lizard Squad, the majority of which hurl personal insults at the security journalist and dismiss the manner in which he has condemned the group's activities. LizardStresser is currently down, for the group is allegedly migrating its servers.