Image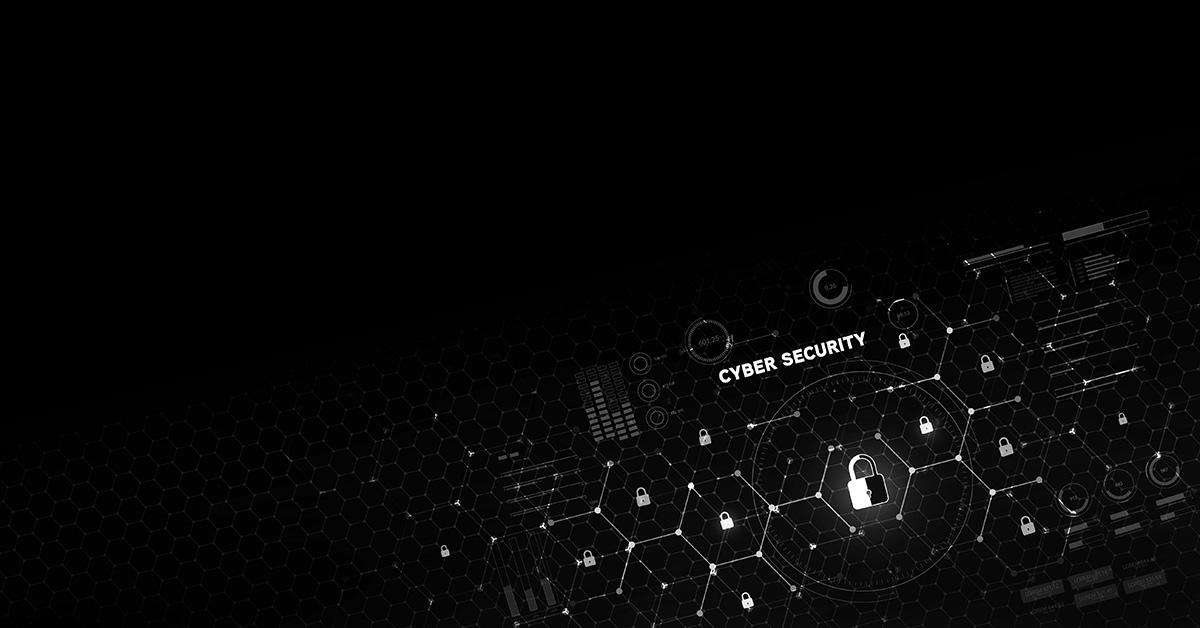 In the world of cybersecurity, have you ever wondered about the inner workings of threat actors as they attempt to breach systems, their methods, tactics, and strategies, and how they seamlessly converge to execute a successful attack? It's not merely about initiating an attack but also the strategies they utilize to remain concealed within the system, allowing them to persistently operate and ultimately achieve their goals. These seemingly perplexing procedures of malicious actors become more accessible to understand with the MITRE ATT&CK Framework.
The MITRE ATT&CK Framework
MITRE ATT&CK, short for "MITRE Adversarial Tactics, Techniques, & Common Knowledge", serves as a freely accessible global repository of adversary behavior. MITRE is a not-for-profit organization that started ATT&CK in 2013 with the primary purpose of providing a comprehensive knowledge base of adversary behaviors, including their tactics, techniques, and procedures (TTPs). This framework plays a vital role in investigating the strategies employed by Advanced Persistent Threats (APTs), and profiling specific threat actors.
A core objective of MITRE ATT&CK is to foster a community focused on threat-informed defense. By gaining insight into the methods used by threat actors, organizations can better predict, detect, and defend against cyberattacks at their early stages, ultimately strengthening their security postures.
There are three matrices of the MITRE ATT&CK Framework:
ATT&CK for Enterprise: This matrix details the actions of a threat actor in a corporate network. It mainly focuses on post-compromise behavior in Windows, Mac, Linux, and Cloud environments. This matrix serves as a valuable tool for enhancing network defense strategies by expounding the TTPs employed by adversaries following a successful breach.
ATT&CK for Mobile: The mobile matrix discloses adversarial behavior on iOS and Android operating systems.
ATT&CK for ICS: This model outlines the tactics and techniques utilized by threat actors in Industrial Control Systems (ICS) including critical infrastructure such as water treatment facilities, power grids, and transportation systems.
What are TTPs?
Cybersecurity professionals leverage TTPs to recognize the patterns, methodologies, actions, and approaches employed by threat actors during cyberattacks.
Tactics
Tactics encompass the methods and strategies employed by threat actors throughout the entire attack lifecycle, from the initial system compromise to their persistent presence within the system. Examination of these tactics provides insight into the motive behind the attack and the threat actor's ultimate objectives.
The MITRE ATT&CK Enterprise Matrix lists 14 different tactics:
Reconnaissance – Active or passive techniques that gather vital information about the target organization.
Resource Development – Establishing resources to support operations and attacks.
Initial Access – Techniques used to gain access to the target system through different attack vectors.
Execution – Techniques that attempt to run malicious code on the target system.
Persistence – Techniques to sustain the attackers' presence within the system.
Privilege Escalation – Attempts to leverage high-level permissions and access within the system.
Defense Evasion – Techniques used to evade detection when performing malicious activities.
Credential Access – Techniques used to steal account usernames and passwords.
Discovery – Understanding the inner workings and functionalities of the target system.
Lateral Movement – Navigating across multiple systems of the target environment.
Collection – Gathering information of interest based on the threat actors' objectives.
Command and Control – Maintaining communication channels with the compromised systems.
Exfiltration – Stealing and transferring acquired data to other data stores.
Impact – Disrupting data availability and integrity, thereby affecting the organization's operations.
Techniques
Techniques refer to specific actions and methods executed within a particular tactic to achieve the threat actors' objectives. They explain how threat actors operate to attain their goals and the benefits they derive from each action taken.
The following figures display the techniques listed in ATT&CK for Enterprise matrix.
Image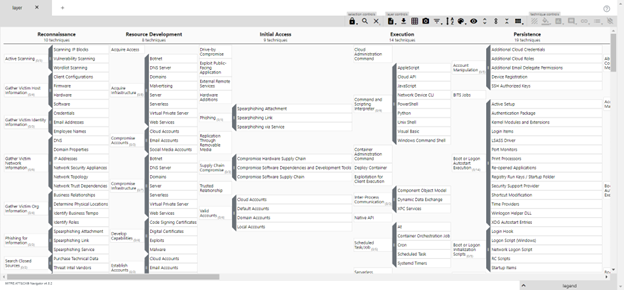 Figure 1- A partial view of Enterprise ATT&CK matrix, showing five different tactics, along with their techniques and sub-techniques (source: MITRE ATT&CK® Navigator v4.8.2)
Image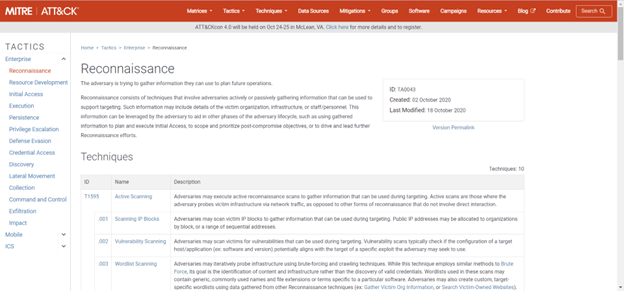 Figure 2 - A partial view of the Reconnaissance tactic, its techniques, and sub-techniques (Source: attack.mitre.org)
The MITRE ATT&CK matrices provide in-depth information about attack techniques, their targets, how to detect and mitigate them, and real-world examples. These frameworks are regularly updated to include new attack methods. Under each tactic, you'll find related techniques, and selecting one provides a detailed description, along with mitigation and detection strategies, plus references and additional resources.
Procedures
Procedures offer a detailed roadmap for executing an attack. Threat actors selectively combine tactics, techniques, tools, and practices to orchestrate their attacks. They don't need to use every available technique in order to achieve the desired objective. They traditionally focus only on what's essential to exploit vulnerabilities efficiently, often needing only a few steps to achieve their objectives. Cybersecurity researchers will analyze these procedures using network and event logs to identify patterns and anomalies, understand attack methodologies, and enhance threat detection and prevention measures.
How to implement the MITRE ATT&CK framework in your organization
IBM Security recommends a 5-step methodology to successfully implement the MITRE ATT&CK framework in your organization.
Know your business objectives – Prior to implementation, cybersecurity researchers should collaborate closely with both business and IT stakeholders to gain a deep understanding of the most crucial business objectives.
Perform an enterprise risk assessment – This process will identify potential security gaps in the business objectives identified in the first step. It's advantageous to include diverse use cases, such as remote access vulnerabilities and potential insider threat scenarios, for a more comprehensive understanding.
Prioritize mission-critical systems - Blue teams can use the MITRE ATT&CK framework for threat detection and to protect critical systems. This includes AI and ML integration into SIEM for automation and MDR for real-time monitoring. Red teams should be involved early in the process for effective implementation.
Conduct a post-incident analysis - MITRE ATT&CK aids in post-incident analysis for enhanced threat detection and faster response, saving time and cost.
Partner with a managed security service provider (MSSP) - Consider collaborating with a Managed Security Service Provider (MSSP) or security consulting provider to optimize MITRE ATT&CK implementation for long-term threat detection and response enhancement.
Use cases of the MITRE ATT&CK Framework
Cybersecurity operations – The ATT&CK matrices assist Security Operation Centers (SOCs) and cybersecurity teams in monitoring, detecting, and responding to cyber threats while also evaluating SOC maturity, measuring its effectiveness of intrusion detection, analysis, and response capabilities. They also aid to develop incident response plans and identify potential security gaps in the organization's security posture.
Adversary emulation - ATT&CK is utilized to create attack scenarios for testing and verifying defenses against common adversarial techniques.
Threat intelligence – Security analysts utilize TTPs to gather and analyze data about threat actors, identifying patterns and trends in cyber threats.
Red teaming and penetration testing - Red teams and penetration testers simulate real-world attacks, identifying vulnerabilities and weaknesses in an organization's defenses by following the TTPs in the ATT&CK Matrix.
Compliance and audit - Compliance and audit teams can assess the organization's security posture and demonstrate compliance with industry and regulatory standards by mapping security controls to specific tactics and techniques in the ATT&CK Matrix.
Conclusion
The MITRE ATT&CK Framework is a cornerstone of cybersecurity. Through its matrices, tactics, techniques, procedures, and real-world use cases, it offers invaluable insights into threat actor behavior. This knowledge empowers organizations to fortify their defenses, detect threats swiftly, and respond with agility. As cyber threats constantly evolve, the MITRE ATT&CK Framework plays a pivotal role in safeguarding cyberspace.
---
Editor's Note: The opinions expressed in this and other guest author articles are solely those of the contributor, and do not necessarily reflect those of Tripwire.