Image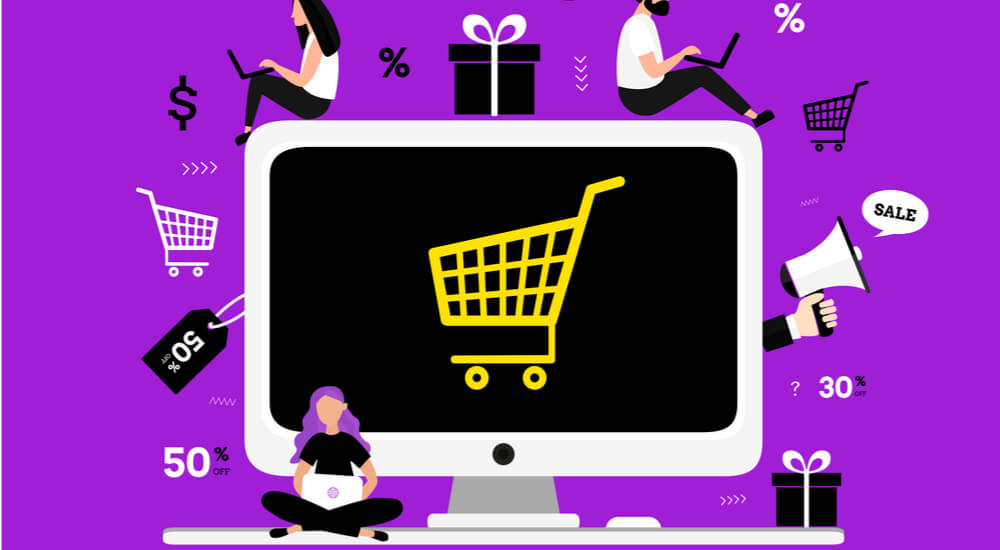 Online shopping has become so popular that it has contributed to the fall of once giant businesses like
Sears
. But beneath the convenience of ordering goods at home is a mammoth cybersecurity problem that affects millions of users every year. You may think shopping on sites like Amazon and eBay is completely safe – but it's not. Hackers can get your credit card information if your passwords are weak. Attackers can send malware to your PC as you shop. Ebay has a poor reputation of harboring criminals. So, how can you spot cybersecurity threats on the Internet? Here are seven helpful tips to protect yourself:
1. Never Share Personal Information
The number one rule of using the Internet is to never share your personal information with strangers. If you have an account with an online shop, don't share your private information with anyone at all. Scammers contact random Amazon and eBay users asking them for personal information. If you share your personal details for business reasons, utilize these simple techniques:
Open a special email address for shopping: Use the email for shopping activities alone and nothing else. Delete any emails sent to your spam box and don't let strangers learn the address.
Use strong passwords: Don't use single words for passwords. Use long, easy-to-remember words combined with numerals and characters.
Use multi-factor authentication where possible: This will add an extra layer of defense to your online accounts.
2. Shop Safely with a VPN
Hopefully, by now, most people know public Wi-Fi connections are unsafe. But sometimes you might get tempted to use them while at restaurants or on a vacation. If you do decide to connect, make sure to secure your connections by using a VPN. Trusted virtual private networks encrypt your data and hide your IP address. Hackers can't view what you are searching, and they can't also pick out your IP address as you use public WiFi. While
some VPNs
offer free connections, the best providers charge monthly fees starting at $3. Some providers allow you to use up to 10 devices with one license, making their services highly convenient.
3. Don't Accept Outside Payments
If you find products on eBay, pay using the retailers' payment methods only. Using any alternative methods is against the company's terms of service. It's also a security risk as you can easily get scammed. eBay protects you from cons in many of the products listed on their website, but not all. If you buy products from the retailer's classified ads' section, there is no security assurance. Ebay transactions involving real estate and vehicles don't have warranties, also. If you must purchase such items on eBay, do a lot of due diligence. Paying using retailers' payment methods offers an assurance your money could be refunded in case something happens. For instance, if a seller fails to ship the product you ordered, eBay makes a full refund. Like eBay, Amazon only protects buyers who use the retailer's payment options.
4. Double-Check the Website's Name
Amazon and eBay may be great retailers, but they have no control over look-alike websites targeting their customers.
Once in a while
, scammers will open domain names with the words Amazon or eBay in them. The sites may even have the safe padlock icon. You must constantly check you are on the right Amazon or eBay. The giant companies can't make refunds if you are scammed on replica websites. One way to avoid falling for fake websites is to search the retailer's name manually. Avoid using links sources on unknown websites.
5. Use Temporary (or Different) Payment Cards
When
Home Depot users were hacked in 2014
, people who used their primary credit cards were the most affected. You never know what tricks hackers use. In the case of Home Depot, some victims lost hundreds of thousands of dollars because they regularly shopped with their main debit cards. Always be proactive with your security. Don't trust any retailers and use different credit cards to shop online. If you have a temporary credit card, use it as opposed to your main credit card. Alternatively, you can use pre-paid debit cards. If there is only $5,000 in the card, it's the maximum you can lose.
6. Check Shopping Statements Regularly
Because you can't know when your security is compromised, check your shopping information regularly. Also, ask your credit card provider to be notified about your latest payments. You want to ensure no one makes automatic payments without your knowledge. If there are suspicious payments, call your credit card provider – sort the issues out as soon as you spot them. Most credit card companies will still charge you if the problem occurred over a month ago and you didn't report during that period.
7. Use Mobile Apps
One of the easiest ways to shop online safely is to use a retailer's app. While you don't get protection from hackers, you can't mistake Amazon's official app for a fake. Therefore, you should download the app from an official app store to increase security. By using eBay's or Amazon's app, you avoid landing on fake websites or encountering other security issues that commonly affect web users. For extra protection, secure your smartphone with anti-virus and anti-malware software. Use a VPN to conceal your IP address, and you will be safe to use Amazon or eBay. Millions of people shop on large retailers like Amazon and eBay and experience no security issues. But once in a while, someone is scammed; their
Amazon account is hacked
; their credit card information is stolen. Some attackers send you malware as you shop on eBay and demand ransom after they steal your personal information. Be proactive and use every security technique available. Use strong passwords and never share them. Avoid public WiFi and use VPNs to shield your internet traffic. Don't fall for scams that want you to pay outside of the large retailers, and generally avoid products that sound too good to be true.
---
Editor's Note:
The opinions expressed in this and other guest author articles are solely those of the contributor, and do not necessarily reflect those of Tripwire, Inc
.