Image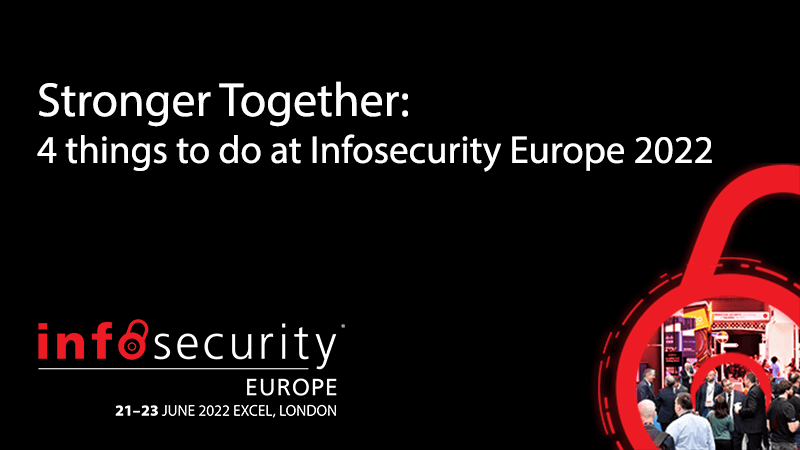 Following a two-year suspension of its live conference, Europe's largest information security event Infosecurity Europe returns, welcoming in-person attendees at London's ExCel Centre between June 21st and 23rd. Reed Exhibitions announced in December that the theme of this year's conference would be Stronger Together, a continuation of 2021's virtual conference theme of Resilience, highlighting the requirement for cybersecurity professionals to radically increase cooperation and collaboration.
The Stronger Together theme manifests itself through the dissemination of knowledge during the conference itself followed by the subsequent utilisation of that knowledge by attendees into their own organizations, communities and networks. Infosecurity Group works in partnership with (ISC)2 and ISACA to incentivize participation by enabling attendees to earn CPE (Continuing Professional Education), CPD (Continuing Professional Development) and ECE (Educational Credential Evaluators) credits automatically through participating in conference events. Eligible conference events include sessions, seminars, workshops and training courses.  For example, attendees could attain half a credit for a 25-minute session, one credit for a 50-60 minute seminar and two credits for a two hour workshop.
Having identified this year's theme and several benefits of attending Infosecurity Europe, let us highlight four key areas of interest to all of those who will be in attendance.
Exhibitors
The 2022 Infosecurity Europe Conference has 370 listed exhibitors. Ensure you maximise your conference experience by visiting the Exhibitor directory resource to browse the exhibitors and add them to the 'my plan' site feature to organize your time. A key exhibitor we can recommend is the Fortra team at stand K60. Visit their stand for a fresh perspective on how their integrated data security tools can protect your organisation's sensitive assets. Technical experts from brands such as Digital Guardian, Clearswift, Agari and Tripwire will be available to answer your cyber security questions as well as provide demonstrations. Add Fortra to your Conference "my plan" here.
The Keynote Stage
Attend the European Blogger Awards
Returning (alongside conference attendees) this year following two-years only taking place online, is the live in-person European Cybersecurity Blogger Awards. The European Cybersecurity Blogger Awards recognise the best bloggers, vloggers, tweeters and podcasters in the industry. These awards provide an opportunity for attendees to interact with prominent members of the cybersecurity blogger community, CISOs and a number of other industry leaders and decision makers. The event will take place on the evening of the first day of Infosecurity Europe – 21st of June – at the fabulous Tapa Tapa restaurant, just outside the ExCel conference centre.
As proud winners of the 2021 Best Cybersecurity Vendor Blog, we have again been nominated for two awards this year namely; Best Cybersecurity Vendor Blog and Most Educational Blog for User Awareness. Please take a look at this year's nominations and cast your vote in a number of categories.
Visit the Technology Showcase
A key benefit of attending any conference is to gain insights from industry leaders as they present and explain their cutting-edge technologies. All conference attendees are eligible to attend the Technology Showcases during the exhibition to meet with these exhibitors and learn more about their new products. A key Showcase is the session entitled, "Fortra Data Security Suite: Protecting Your Data With Layered Security Solutions". This session will detail the data security challenges that organisations face and how people, processes and technology can be used to protect data throughout its entire lifecycle. Following this it will move to detail how the Fortra Data Security Suite can assist with protecting your sensitive data.
Click here for more information and to add to your "my plan".
Now that you have some ideas on how to structure your time at the 2022 Infosecurity Europe Conference, it's time to start getting excited as this major event is almost upon us! The organisers have assembled a handy guide for your experience which can be found here.
We are all excited for in-person events to return, but it's entirely understandable to have some trepidation as we navigate the "new normal" associated with larger scale events. At the time of writing, current guidance suggests that Covid passes are no longer mandatory to attend venues in the UK and you are not required to provide any test results in order to attend the event.
For further information and to be informed of what steps event organisers are undertaking to ensure your safety access the information here: https://www.infosecurityeurope.com/en-gb/help/safety.html.