Image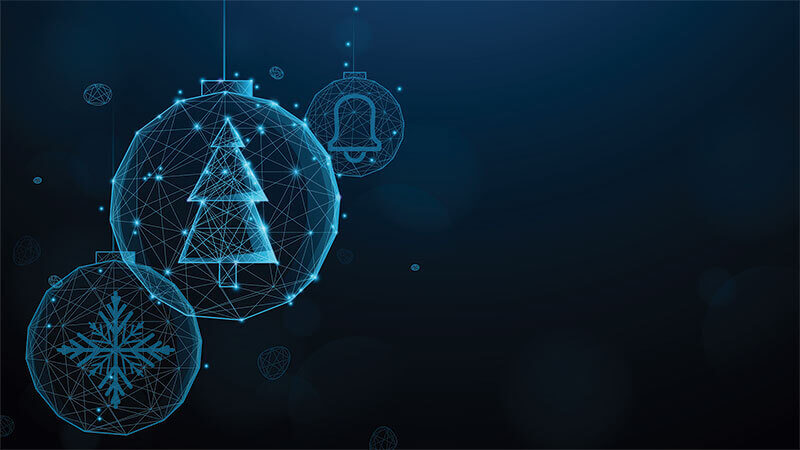 We're getting into the end-of-year holiday season. In addition to our busy end-of-year business schedule, we need to plan for family visits, develop menus for special meals, and possibly do a little shopping while the deals are good. It's a lot to keep track of.
Just remember it's when you are distracted that you tend to put your digital security most at risk. Digital criminals don't take holidays. In fact, they actively use all the distractions surrounding the holidays to target consumers with scams and other attack attempts.
Cyber Safety for the Holidays
Now is the perfect time to review cyber safe tips for the upcoming holiday season. Provided below are some recommendations that you can follow to stay secure.
Shop using secure Wi-Fi: Coffee shop browsing is very convenient, but before you give in and buy something then and there, perhaps save the links and head home where you know your connection isn't being rerouted to a man-in-the-middle attack when you plug in those credit cards. If you need to do your shopping while out and about, you could consider using a VPN.
Shop from a secure device: Malware or keystroke copying trojans are still out there, siphoning off what is typed into an infected machine be it a PC, smartphone, or tablet. Check that your antivirus tools are current and running as well as that your operating systems and browsers are updating.
Shop from secure websites: Check that the site you are shopping from uses SSL protection. Does the address bar have "https:" in the URL? That "s" should be required before you enter payment or personal information.
Shop from unique credentials: If you shop from the same website often, it's useful to have an account, and sometimes the retailer will require it or create it when you make your first purchase. One mistake many folks make is to use the same password for each of their retailer accounts, thus making it easy to for the person to remember. However, you don't know what the data protections are for each of those retail websites, and you don't want a single breech on one retailer site to grant a thief access to all of your accounts, so make each password unique.
Use a password vault: See above. So many logins equate to so many passwords. Let the password manager do the heavy lifting! It can help to confirm that your passwords are unique and that you can get back to the retailer next year.
Is it a deal or a "deal"? If it sounds to good to be true, the offer you received via email, text message, or other link may actually be a scam. Be wary and double check. Rather than click links, do an internet search for the retailer. Also, access their site as if you hadn't gotten the email to confirm the offer is real.
Pay securely: No one wants one minor purchase to suddenly lead to a balance-emptying series of fraudulent charges. Use a secure credit card rather than bank debit card for online purchases. Alternatively, ask your financial institution for a travel card or pre-paid debit card that you can use for your online shopping. This would allow you to load up just what you want to spend this season (keeping you in budget!), and if there are any issues with retailers, they don't have access to your regular debit card account.
Watch your account: Check your financial accounts regularly for any unauthorized activity. (Though if you share a credit card with a loved one, strategize how to keep those present purchases secret!)
Give wisely: Charity donation opportunities abound, but do your research. Don't feel pressured to give on the spot, and don't pay attention to unsolicited requests. If you get an email request, search for their website (and be sure you have the proper spelling) instead of following the link.  Don't forget to check for the "s" in HTTPS before entering a card number or personal information at any site. If you want to donate to a charity, you particularly don't want to the funds to go to a scam site.
Don't Forget the Basics
None of these tips are new for the holiday season. You likely do most or all of them for your normal activities. Everyone gets just a bit busier when the cousins are coming to visit or when grandma is preparing her famous cookie recipe. It's therefore worth reviewing and remembering how to stay cybersecure.