Image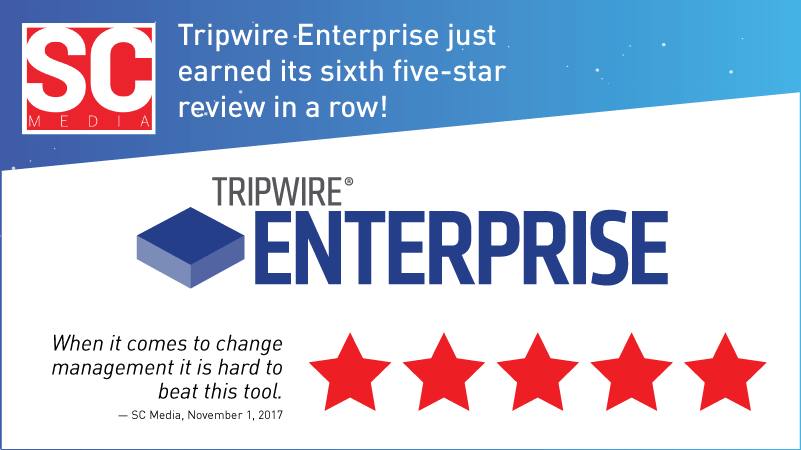 It's always encouraging to see Tripwire's products hold its own in an independent review. It's even better when the solutions excel. Indeed, those positive assessments confirm what everyone at Tripwire already knows about the strength of the company's offerings. The folks at SC Magazine recently published one such evaluation of
Tripwire Enterprise
. In their
analysis
, they cite Enterprise's breadth of coverage, number of integrations, and discussion forums as strengths. As for weaknesses, the reviewers admit they couldn't find any. No doubt this helps to explain why SC Lab's expert team gave Tripwire Enterprise a 5/5 rating in all six categories: features, performance, documentation, support, value for money, and ease of use. That's now the
sixth year in a row
where Tripwire has received a 5/5 rating!
Image

The analysts looked at Tripwire Enterprise, a solution which they describe as "a configuration management tool on steroids" that "handles policy and configuration management, integrity monitoring and automated remediation workflows." I'm pleased to see they also looked at
ExpertOps
. It's a single subscription that brings monitoring and administration to customers. Here's how Todd Bunker, director of remote services at Tripwire,
describes
the product:
"ExpertOps functions as Tripwire Enterprise's 'Easy Button' in that it offers FIM and SCM as a service using cloud-based infrastructure. Tripwire sets it up and manages it, which makes the overall cost much less than setting up a similar service from the ground up. And with a simple subscription, customers can expect to receive alerts, reports, and tuned information sent straight to their inboxes from Tripwire, whose experts are available 24/7 to align their goals with each customer's evolving objectives."
SC Media echoes this sentiment in its ultimate verdict for Enterprise:
"When it comes to change management, it is hard to beat this tool. But along with that it is a very competent cyber risk management platform. Well worth your time, even if you have other GRC tools that it can work alongside. This is our next generation Recommended tool this month."
To read the complete SC Lab review, click
here
.