Image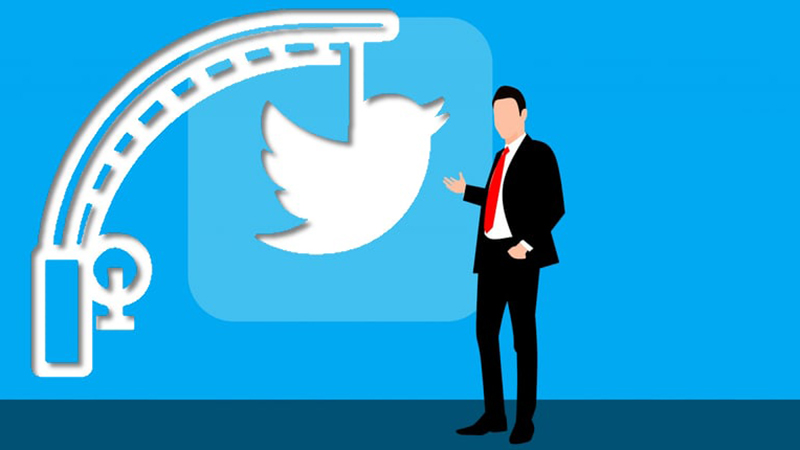 As everyone has surely heard by now, Elon Musk has bought Twitter.
The controversial tech maverick's takeover of the site has caused some consternation for the site's users, employees, and advertisers - and has also proven a golden opportunity for scammers.
Numerous verified Twitter users have reported receiving phishing emails from fraudsters, purporting to be a legitimate message from the website.
The emails warn users that their "Verified" status - a coveted blue and white tick badge displayed alongside their name - will have to be paid for on a monthly basis, unless they can "fully verify [they are] famous or well-known."
Image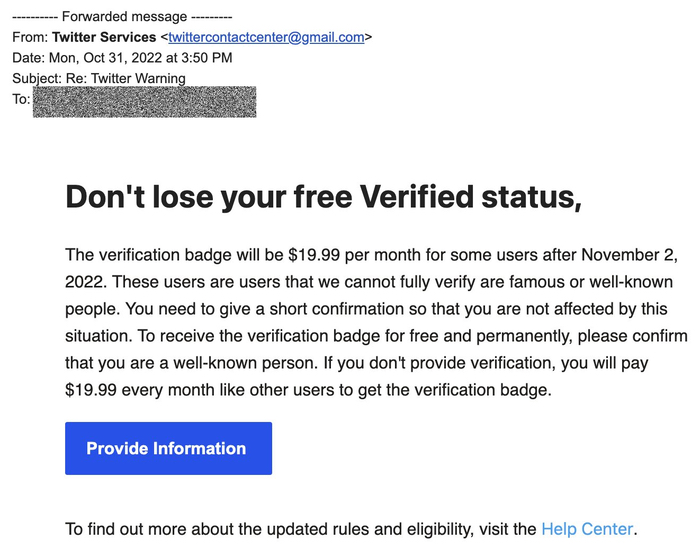 Don't lose your free Verified status,

The verification badge will be $19.99 per month for some users after November 2, 2022. These users are users that we cannot fully verify are famous or well-known people. You need to give a short confirmation so that you are not affected by this situation. To receive the verification badge for free and permanently, please confirm that you are a well-known person. If you don't provide verification, you will pay $19.99 every month like other users to get the verification badge.
The phishing email builds upon widely-publicised statements made by Elon Musk that he will be introducing a paid-for verified account scheme in the coming days.  It was initially reported that Musk plans to charge $19.99 per month for a so-called "blue tick" (it's actually white on a blue background), but following an altercation with horror author Stephen King he appears to have settled on an $8 monthly fee.
Here is the problem.  Everytime Elon Musk says something it makes headlines news, and Elon Musk says a lot of things...
The world's richest man's plans for the news junkie's favourite social network inevitably get a great deal of attention.  Not everyone will be aware of the details of what Elon Musk might be planning for Twitter, but they will certainly be aware that it's a hot topic.
And so if a Twitter user receives a message claiming to be about their verified account, they may very well believe it... and that makes them more susceptible to falling into a trap.
In this case, as TechCrunch journalist Zack Whittaker describes in a series of - you guessed it - tweets, it's not the most sophisticated example of a phishing attack ever seen.
Clicking on the link doesn't take the unsuspecting user to a webpage hosted on the official Twitter site, but instead takes them to a page hosted on Google Forms which blatantly requests the victim enter their username, password, and phone number.
Image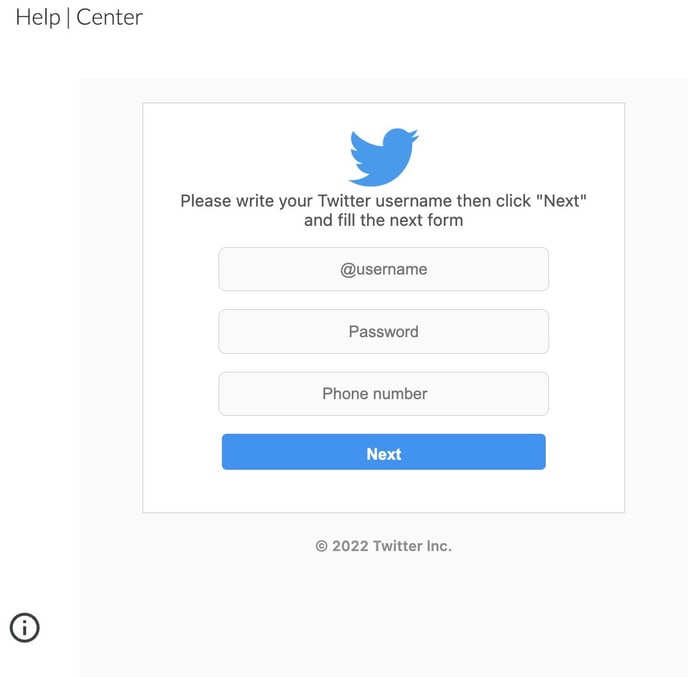 Google has now taken down the phishing page, but I don't for a second imagine this will be the last phishing attack to exploit the current turmoil on Twitter.
---
Editor's Note: The opinions expressed in this guest author article are solely those of the contributor, and do not necessarily reflect those of Tripwire, Inc.