To provide scale and efficiency for large industrial networks, enterprise grade hardware can enable the consolidation of multiple smaller sensor and server deployments of Tripwire® Industrial Visibility, or individually support asset discovery within large industrial networks. Additionally, OT organizations can take full control of their CAPEX and remove their dependency on finding compatible hardware required for deployment. Embedded with the solution out of the box, this Tripwire Industrial Appliance helps customers gain visibility in their OT networks through a passive asset discovery approach.
ICS Visibility and Threat Management
The Tripwire Industrial Appliance solves operational challenges through continuous threat monitoring and advanced logging intelligence—without the complications of procuring and integrating a separate device. It provides asset visibility and threat management for industrial networks.
Designed to be deployed in a climate controlled, non harsh environment, TIA-2400V and TIA-2800V series employ a fanned design for self-cooling, and high CPU and RAM to support asset discovery for large industrial networks. In addition, TIA-2810V (coming soon) employs a bump in the wire approach, meaning it will not require port mirroring or extra network infrastructure to function, and there will be no network disruption since hardware bypass prevents packet drops.
Once plugged into the network, the Tripwire Industrial Appliance passively gathers threat data that could threaten the safety and availability of OT environments by analyzing network traffic and conducting deep packet inspection. It's fluent in over 100 native industrial protocols commonly found in industrial control systems (ICS)—the most covered by any solution on the market—to make sense of the floods of data produced by your entire range of IIoT-connected industrial devices.
Image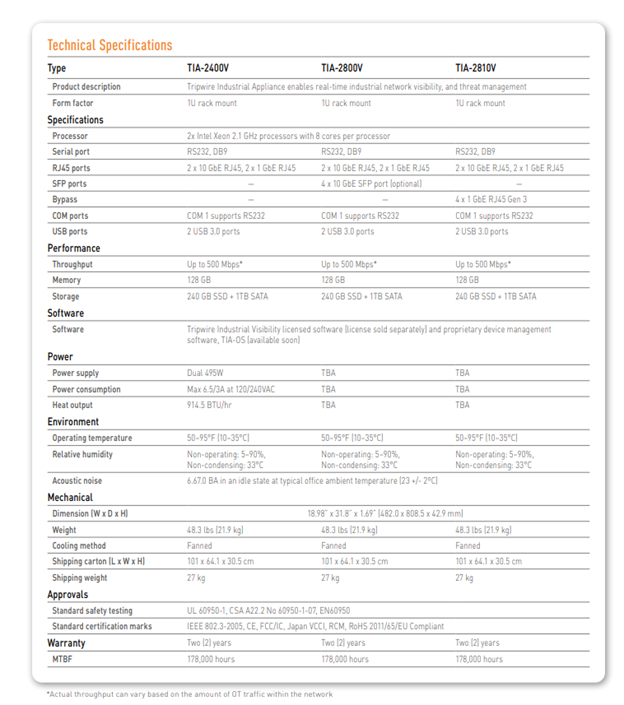 Schedule Your Demo Today
Let us take you through a demo of Tripwire Industrial Visibility and Tripwire Industrial Appliance and answer any questions you have.
Request a Demo