Image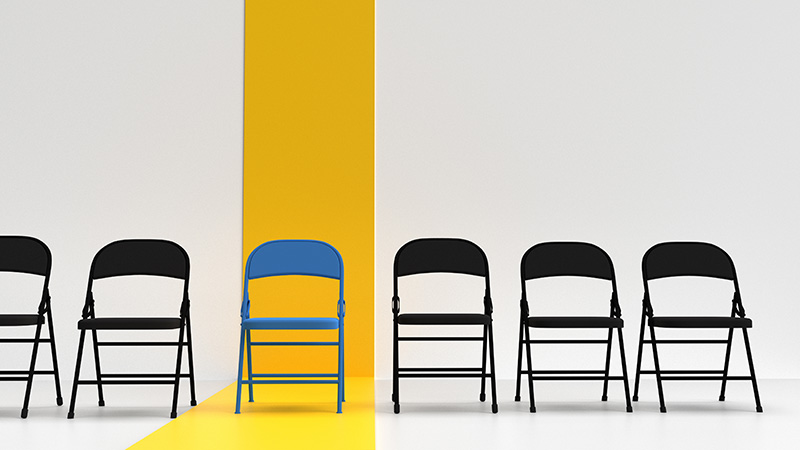 With so many companies currently reducing their workforce, job scams have become a serious and widespread problem for those who are looking for work. Stories from people who came across these scams on LinkedIn talk about scammers asking for their IDs, possibly to commit identity fraud or theft.
Although most of these scams come with glaring warning signs, such as a lack of in-person or online interviews, scammers go to great lengths to make it as realistic as possible, complete with fake contracts and background check questionnaires. They may also have LinkedIn profiles with many followers, which lists previous jobs, or use legitimate recruiting platforms, posting job advertisements on LinkedIn, and even going as far as pretending the person is now employed (see this story). All of this adds credibility, and with more and more people employed remotely, these types of scams will only increase because they are easier to fake. 
Bill's story
Recently I interviewed Bill, who was contacted by a recruiter about a job for a legitimate company which was advertised on LinkedIn.  The credible LinkedIn job platform immediately adds trust. This is not unusual, as recruiters frequently contact people about jobs, even if they did not apply for the job. Bill received a "screener", a short questionnaire about his skills and experience, which he filled in. This questionnaire had logos and branding of a legitimate company and seemed to be quite specific to the expertise for the role. While this may be slightly unusual, some companies, especially staffing companies, have this procedure as the interview process tends to be much shorter for contract positions. This questionnaire is then sent to hiring managers to select candidates for interviews. Others may request one way video interview, where a candidate records themselves answering questions.

After the questionnaire, Bill was sent a contract to sign. Although not typical, this too was not completely unusual either, as some of the contracts can move very quickly, especially in his field. At this point, Bill signed a contract and was asked to provide a copy of his driver's license, which he did. Feeling suspicious at that point, he did some online research to see what someone can do with a copy of a driver's license and found out that this can be used for ID fraud.

Bill shared with me that although he had some concerns along the way, he was not overly alarmed because no one asked him for his bank details or passport number. He was not aware that driver's licenses also contain enough details that can be used for ID fraud.
What makes us vulnerable to job scams?
Job scams prey on our circumstances. When people are out of work, they often face financial and existential consequences. This may include lack of medical coverage, not being able to afford school or other important fees, and even homelessness. Additionally, being laid off from a job, especially for a main breadwinner in the family, can greatly impact self-esteem. All of this causes anxiety and stress. Therefore, our motivation will be focused on finding a job and alleviating negative feelings and stressors that come with being out of work. This intense motivation to find work makes us less risk-averse. This means that we may accept risks we would not accept in different circumstances or ignore warnings that seem obvious.
Scammers also use several elaborate techniques, depending on the type of job scam.
Reviewing some of the correspondence that Bill shared with me, I noticed that the contract had somewhat typical jargon and clauses, but one clause was particularly interesting. It was also placed in a prominent place, right at the end, before signature. I broke it down so you can see how a seemingly innocent paragraph can contain clever scam techniques which may subconsciously influence us.
Image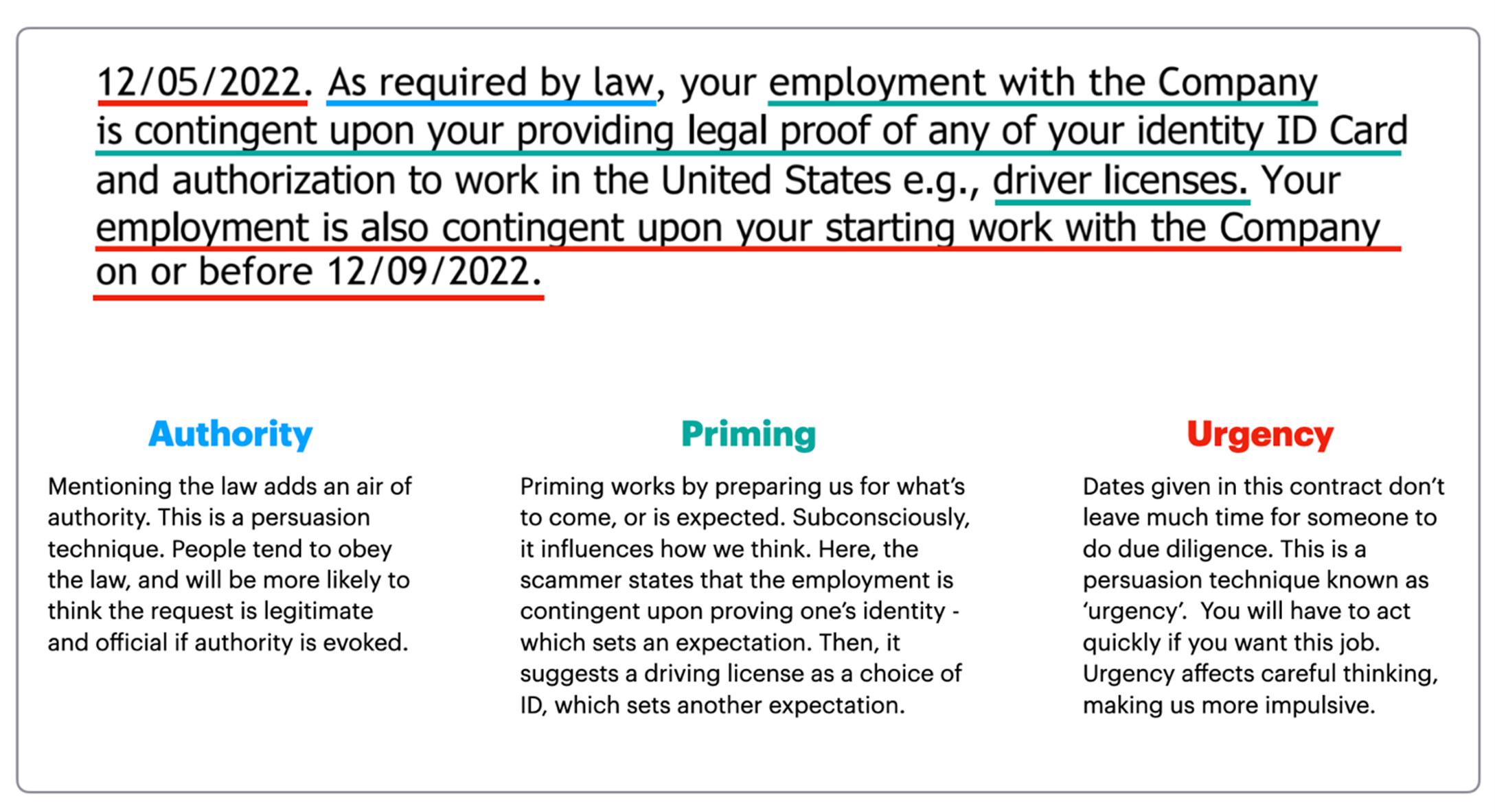 Protect yourself from job scams
General advice for job scams is to check and check again if you feel something is out of the ordinary. Many job scams are very specific to a particular industry, and new ones are popping up, so it's hard to describe all possible tricks as scammers adapt quickly. I have outlined a general checklist of things to be aware of.
Job scams checklist:
Correspondence is remote. Be more cautious if an interview is not a traditional interview, in which you have a face-to-face conversation with someone.
 
Requests to share parts of your date of birth, Social Security Number, or copy of your documents. Legitimate companies should only ask for your credentials at a point of a background check. This is typically done by an independent company which specializes in this, and typically there is a form to fill that is sent through a secure portal.
 
Company asks you to pay for something. Getting a job means they pay you, not the other way around. Any request to pay for training, visas, or work materials should be seen as problematic. Legitimate companies will typically not ask candidates to pay for such things. And if they do, they are probably not good companies to work for.
 
There is urgency. Whilst some jobs may be urgently needing a candidate, no legitimate company will hire anyone who has not been background checked (they can get in legal trouble), and this takes time. Whenever you feel pressured to act quickly, slow down and check things out. Urgency is a known persuasion technique and is used to influence people.
 
Job pays more than a typical salary. Scammers often evoke visceral influence, such as greed or excitement by offering high salaries. This is often coupled with urgency. For example, a scammer might explain that a high salary is offered because they need you to start straight away.
 
You have doubts but also feel motivated to dismiss them. We frequently have doubts about things and, more often than not, we find out that those tiny worries were right. If something is making you uncomfortable, even a little bit, take time to see if those worries could be true. Perform some online research, ask friends, check out the company, etc. When we are worried about finances, we are more likely to risk it and do things we would not otherwise consider. Often, a bit more time to make decisions is all it takes to see things as they are.