Image Scammers stole S$80,000 from a woman by tricking her into visiting a fake phishing website for the Singapore Police Force (SPF). On 13 November, local law enforcement received a report from the woman that someone had stolen several thousand Singapore dollars from her bank account. She told investigators that the trouble started sometime earlier when she received a call from someone claiming to be a Singapore Police Force officer. They told her that someone was abusing her bank account for the purpose of committing money laundering. To help stop those fake criminals, the caller requested that the woman provide her personal information. She complied, and the call ended shortly thereafter. A day later, the woman received another call from someone who said they were from the SPF. This time, they asked her to load up a website that looked like the SPF's official site, visit a "Bank Encryption" page on the site, and log in using her banking information. The woman did all that was asked of her. It wasn't long before the victim learned that someone had withdrawn S$80,000 (approximately US$59,000) from her account. In a news release published on 16 November, the SPF disclosed the details of what happened to the woman in an effort to raise awareness among otherwise unsuspecting users. They warned specifically of the Bank Encryption page, a feature which does not appear on the police's actual website, and said that scammers are using sophisticated techniques to try to trick users into picking up the phone. As
quoted by TODAYonline
:
Scammers may use Caller ID spoofing technology to mask the actual phone number and display a different number. Calls that appear to be from a local number may not actually be made from Singapore. If you receive a suspicious call from a local number, hang up, wait five minutes, then call the number back to check the validity of the request.
Image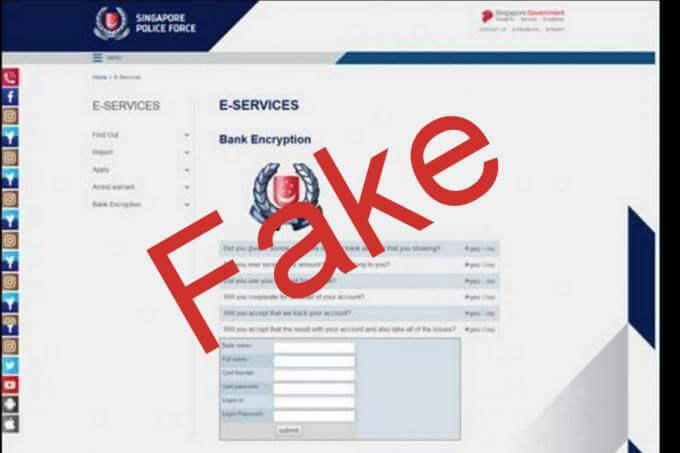 Screenshot of the fake SPF website. (Source: HackRead) The police went on to say they that "no government agency will inform you to make a payment through a telephone call, especially to a third party's bank account." Users can protect themselves against these types of scams by exercising caution around calls from unknown phone numbers. If they answer the call and receive a request to provide personal or financial information, they should hang up and call the police. They should also protect themselves against
phishing attacks
by remaining vigilant for spoofed websites. They can do so by verifying the domain.