Image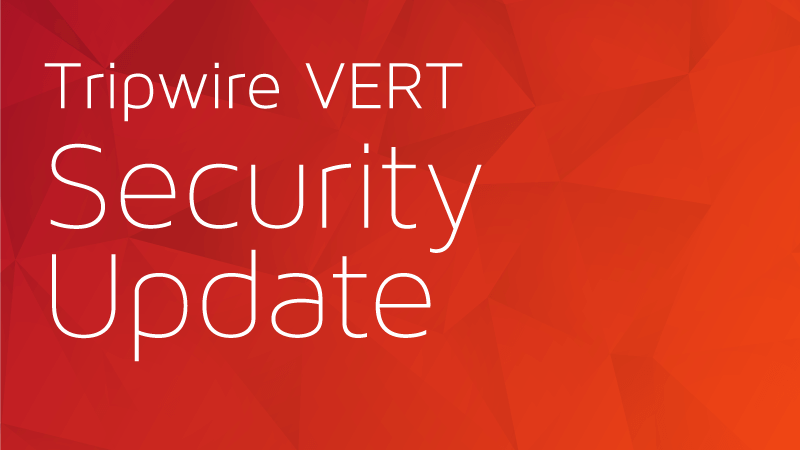 Today's VERT Alert addresses Microsoft's
June 2018 Security Updates
. VERT is actively working on coverage for these vulnerabilities and expects to ship ASPL-782 on Wednesday, June 13th.
In-The-Wild & Disclosed CVEs
This code execution vulnerability exists in Internet Explorer's scripting engine and relates to the handling of objects in memory. Successful exploitation would lead to code execution in the context of the current user. This could be used in a drive-by attack but also by utilizing ActiveX within a Microsoft office document. Microsoft has rated this as a 1 on the
Exploitability Index
(Exploitation More Likely)
CVE Breakdown by Tag
While historical Microsoft Security Bulletin groupings are gone, Microsoft vulnerabilities are tagged with an identifier. This list provides a breakdown of the CVEs on a per tag basis.
| | | |
| --- | --- | --- |
| Tag | CVE Count | CVEs |
| Windows Hyper-V | 2 | CVE-2018-8218, CVE-2018-8219 |
| Microsoft NTFS | 1 | CVE-2018-1036 |
| Microsoft Windows | 14 | CVE-2018-8175, CVE-2018-8205, CVE-2018-8208, CVE-2018-8209, CVE-2018-8210, CVE-2018-8213, CVE-2018-8214, CVE-2018-8225, CVE-2018-8226, CVE-2018-8231, CVE-2018-8239, CVE-2018-0982, CVE-2018-1040, CVE-2018-8251 |
| Microsoft Edge | 6 | CVE-2018-0871, CVE-2018-8110, CVE-2018-8111, CVE-2018-8234, CVE-2018-8235, CVE-2018-8236 |
| Device Guard | 7 | CVE-2018-8201, CVE-2018-8211, CVE-2018-8212, CVE-2018-8215, CVE-2018-8216, CVE-2018-8217, CVE-2018-8221 |
| Windows Kernel | 4 | CVE-2018-8207, CVE-2018-8224, CVE-2018-8233, CVE-2018-8121 |
| Internet Explorer | 3 | CVE-2018-0978, CVE-2018-8113, CVE-2018-8249 |
| Windows Shell | 1 | CVE-2018-8140 |
| HID Parser Library | 1 | CVE-2018-8169 |
| Microsoft Office | 7 | CVE-2018-8244, CVE-2018-8245, CVE-2018-8246, CVE-2018-8247, CVE-2018-8248, CVE-2018-8252, CVE-2018-8254 |
| Microsoft Scripting Engine | 4 | CVE-2018-8227, CVE-2018-8229, CVE-2018-8243, CVE-2018-8267 |
Other Information
In addition to the Microsoft vulnerabilities included in the June Security Guidance, a security advisory was also made available.
On May 21, Microsoft published an advisory describing hardware vulnerabilities that involve speculative execution side channel attacks. The vulnerability "Speculative Store Bypass" (SSB) was assigned CVE-2018-3630. Today, the advisory was updated to announce support for Speculative Store Bypass Disable (SSBD) in Intel Processors.
Also on May 21, Microsoft published another advisory that Intel announced as Rogue System Registry Read (CVE-2018-4640). Successful exploitation of this advisory would allow an attacker to bypass KASLR and requires microcode/firmware updates rather than operating system updates.
Microsoft released updates for Adobe Flash. These correspond with Adobe Update
APSB18-19
. This includes fixes for CVE-2018-4945, CVE-2018-5000, CVE-2018-5001, CVE-2018-5002.
Microsoft has released a defense in depth update for Microsoft Office that changes how Office applications render Office Art.